Spiced Cauliflower Nachos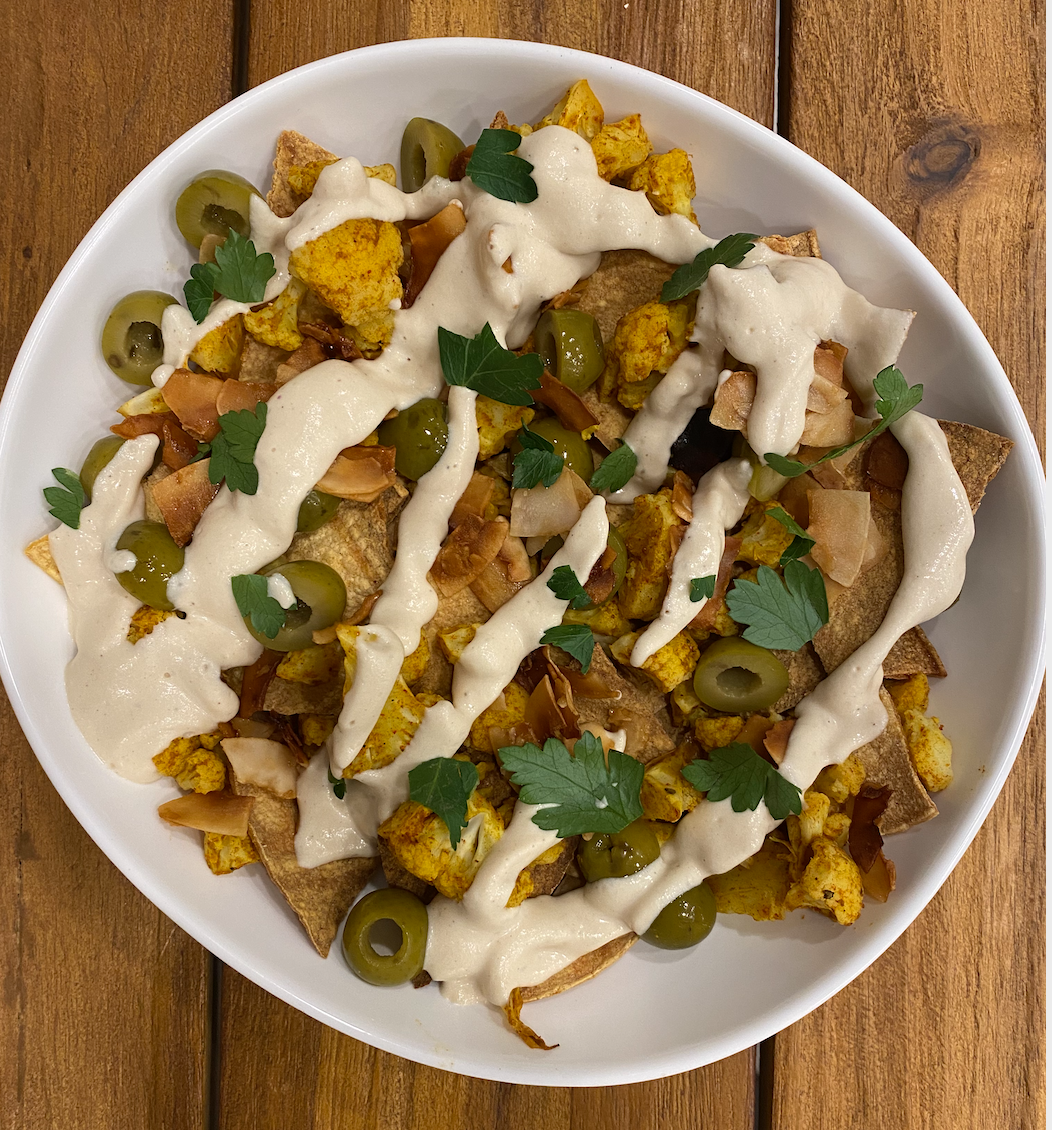 Ingredients
Setup
1 serving of Crap Free Tortillas
1 serving of Smoky Coconut "Bacon"
3/4 cup olives (I like these)
Italian Parsley
CAULIFLOWER
1 large head of cauliflower, broken and cut into small pieces (about 1" round)
3/4 cup vegetable broth
1 teaspoon smoked paprika
1/2 teaspoon curry powder
1/2 teaspoon ground cumin
1/4 teaspoon ground cinnamon
1/4 teaspoon ground turmeric
1/4 teaspoon cardamom
pinch of salt and pepper
WHITE BEAN AND TAHINI SAUCE
1 cup cooked cannellini beans
3 tablespoon tahini
2 cloves of garlic
juice of one small lemon
1 tablespoon maple syrup
1 tablespoon nutritional yeast
1/2 teaspoon mustard powder
pinch of salt
Directions
Pre-heat oven to 475.
Line a baking sheet with parchment paper.
Place the cut cauliflower in a large mixing bowl, pour broth over and toss well.
Add all the spices to a separate small bowl and whisk to incorporate. Sprinkle the spices over the cauliflower and  with your hands, toss well making sure the cauliflower is well coated. Transfer the cauliflower onto the parchment-lined pan, discarding the extra liquid.
Cover and bake  for 20 minutes. Uncover and bake for another 5 minutes.
Meanwhile, to a blender, add all the ingredients, and as the motor is running, drizzle in water to the desired thickness.
Place your chips on a platter, top with olives, smoky bacon, cauliflower, drizzle on the sauce and garnish with parsley.
___
Check out our latest classes: https://www.cpbl-stl.com/classes
To purchase some of the kitchen tools I use here https://tinyurl.com/yyacj2cg
To subscribe to the weekly Plant-based Quick Cooking Show: https://www.youtube.com/channel/UCExWwoBh6fvdOgghkjh0U1A?
Thanks for all of your support!
How did this recipe work out?
Leave a Reply