Spicy Tempeh Asian Lettuce Wrap Salad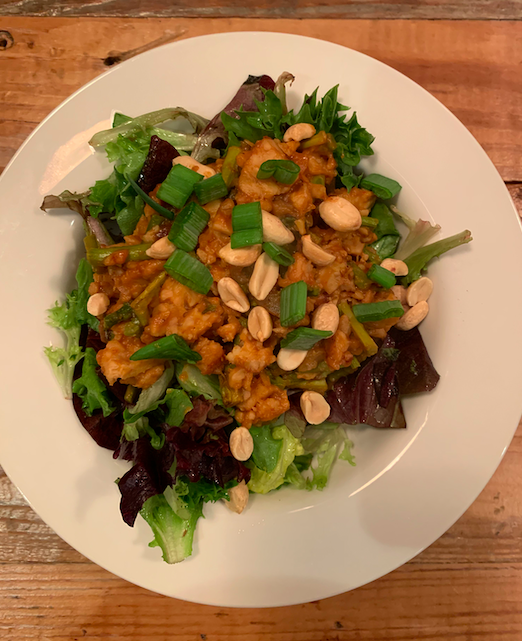 Sooo much better than the restaurants. Cheaper, too!
Ingredients
Setup
Tempeh Marinade
1/4 cup coconut aminos
2 tablespoons natural creamy peanut butter
1 tablespoon maple syrup
2 teaspoons rice vinegar
1 teaspoon miso paste
i large garlic clove, minced finely (microplane preferred)
pinch of freshly ground pepper
1 1/2 teaspoons sriracha (optional)
Salad Dressing
1/4 cup rice vinegar
1 1/2 teaspoons maple syrup
1 teaspoon fresh ginger root, grated
1 large garlic clove, minced (microplane)
pinch of salt and pepper
Salad Ingredients
1/2 yellow onion, diced small
1 package tempeh, crumbled
1/2 bunch of asparagus, cut into 1/2" pieces
2 green onions, cut into 1/4" slivers (both green and white parts)
2/3 cups raw, unsalted peanuts
Directions
Prepare your tempeh marinade by whisking all ingredients together and set aside.
Prepare your dressing by whisking all the ingredients together and set aside.
To a hot skillet, add the onion and allow to cook for 4-5 minutes until translucent. Add a tablespoon of water at a time if stickage occurs.
Add the tempeh and asparagus, cover and cook for 15 minutes over medium-high heat. You'll want to see a little browning on the tempeh.
Add the tempeh marinade and cook for another 5 minutes. Tossing with a spatula every minute or so.
Add the salad dressing to the lettuce and toss well.
Divide the lettuce to 4 large serving bowls, top with the tempeh and garnish with green onions and peanuts.
Serves 4
How did this recipe work out?
Leave a Reply