Spinach Artichoke Dip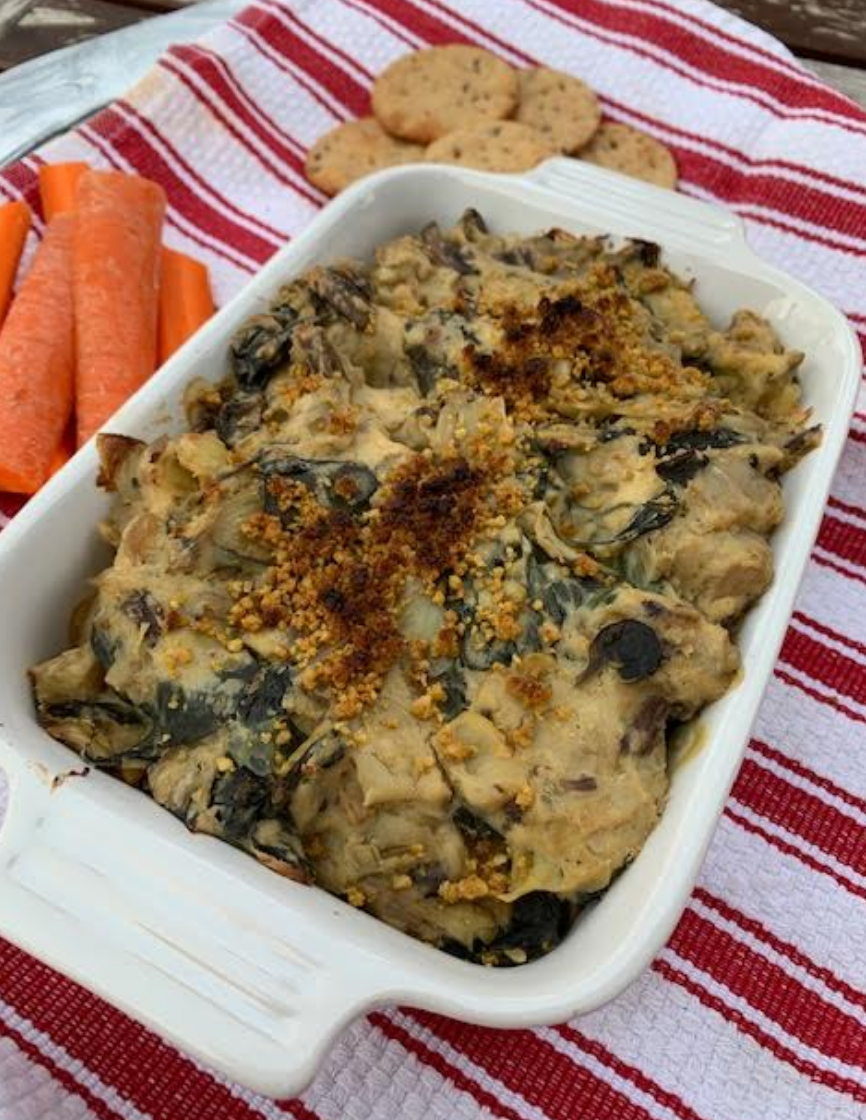 With a couple of easy swaps, I have taken out the saturated fat, added in a new star player (which is optional) to up the nutrient density, and of course kept that authentic oooey-gooey goodness flavor!
Ingredients
Setup
MIXTURE
2 shallots, minced
3 cloves of garlic, minced
1 cup of chopped fresh mushrooms (optional)**
1 14 oz can of artichoke hearts, drained, chopped roughly
2 teaspoons dried oregano
4 cups of baby spinach, lightly packed
SAUCE
3/4 cup cooked cannellini beans
1/2 cup raw cashews**
2 tablespoons nutritional yeast flakes
juice of 1/2 lemon
pinch of salt to taste
1 cup unsweetened plant-based milk, broth or water
1 1/2 tablespoons parmesan to garnish (optional)
Directions
Preheat oven to 425.
In a preheated very hot large skillet, add the shallots. Bring the heat down to med-high and stir often, not allowing the shallots to burn. Keep a cup of water or broth off to the side and add a tablespoon at a time if the food begins to stick. Once the shallots are translucent, add the garlic and stir for 60 seconds. Add the mushrooms. They will soon release their juices and when they do, add in the artichokes and the oregano. Allow to cook for 5 minutes, stirring continuously. Finally, add the spinach and allow it to wilt, again, stirring often.
For the sauce, add the first 5 ingredients to a blender and slowly drizzle in the liquid. You want everything to be whirling around well. Add more liquid if you need to. Pour sauce into vegetable mixture and stir well.
Transfer dip into an oven safe dish and cover. Bake for 15 minutes. Uncover, sprinkle with parmesan and return to oven to bake for another 5 minutes.
Serve hot.
NOTES
*If you choose not to use the mushrooms, add one more can of artichoke hearts
**If you do not have a high speed blender, soak the cashews for at least one hour in water and drain off before using.
How did this recipe work out?
Leave a Reply