Carrot Cake Pancakes with Coconut Vanilla Cream Topping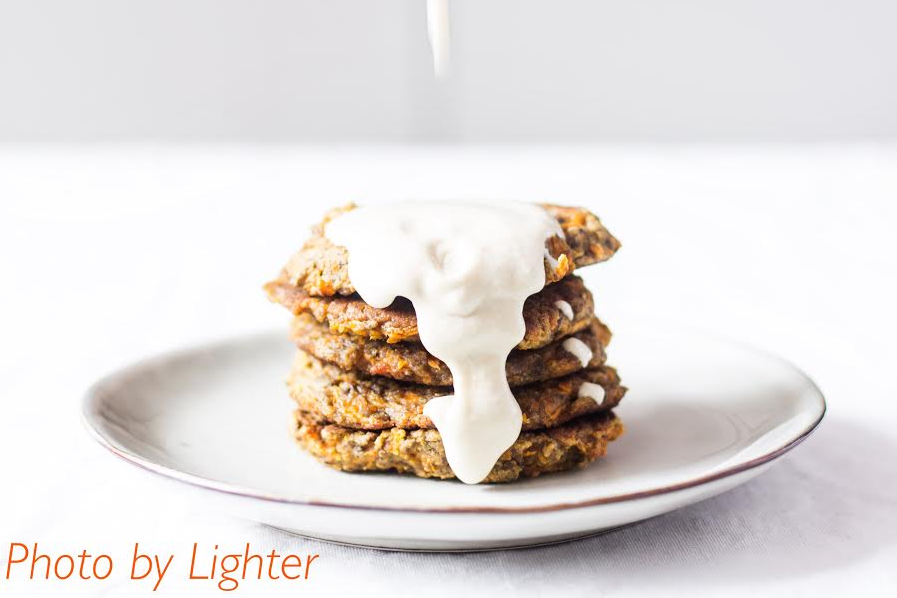 Now you can have your cake and eat it, too (for breakfast)!  These plant-based (vegan) and gluten-free carrot cake pancakes are somehow puffy and yet still dense, they give just a bit at that first decadent bite, but are not gooey at all. Top them with a creamy coconut vanilla cream sauce and you have just rocked brunch, baby.
Ingredients
Setup
1 TBS ground flax seeds
2.5 TBS water
3/4 C unsweetened almond milk
1 tsp apple cider vinegar
1.5 C gluten free whole rolled oats
1/4 tsp cinnamon
1/4 tsp nutmeg
1/4 tsp ground ginger
1/4 tsp salt
1 tsp baking powder
1/2 tsp baking soda
1 TBS vanilla extract
1 TBS maple syrup
1 C grated carrots (hand grating is best or use full carrots in food processor using the grate blade and then switch blade to the "S" blade and pulse)
1 C raw cashews
hot water
1/4 C light coconut milk
2 TBS maple syrup
1 tsp vanilla
coconut oil spray (may not be necessary if you have a great non-stick pan)
Directions
Preheat oven to 200-degrees F.
Combine the flax and the water in a small bowl, stir and allow to sit for at least 10 minutes. It will become gelatinous and this will be your "egg" binder. Combine the almond milk and the apple cider vinegar in a measuring cup, stir and let sit for about 10 minutes. 
Add the oats to a dry blender and on a low speed, begin to blend. As it begins to grind, you can increase the speed just a bit.  Once you reach flour consistency, stop and transfer 1 cup of the mix (which should be all of it) to a large mixing bowl. Add in the spices, baking powder, baking soda and whisk. 
Pour in the flax mixture and the milk mixture.  Stir to incorporate the dry with the wet.  Add in the vanilla and maple syrup and continue to mix, but not too much.  Now, fold in the carrots.  Allow this pancake mixture to set up for 5-10 minutes, it will become pretty thick (remember this is carrot CAKE pancakes).
While you are waiting, make the coconut cream topping.  In a blender, add the cashews and turn on to a medium speed. Slowly drizzle in the warm water until everything start whirling around.  Increase the speed and add in the coconut milk, maple syrup and vanilla.  If it becomes too thick, taste it and add in either more coconut or more water very slowly.  Get it liquefied enough so that it is blending and crank up the speed.  You want this VERY smooth.  It may go for 2-3 minutes and will become hot.  Loosen the top to the blender to let heat escape.
Heat up a large non-stick skillet and give it a light spray with the coconut oil.  Scoop out some of your pancake batter and in to your pan.  After about 3-4 minutes the edges will begin to brown and this is your sign to flip. With a spatula, gingerly get under the pancake and flip it over.  Cook about half of the time you did on side one and transfer it to a plate.  Repeat until you are out of mix.  As you are cooking, keep cooked pancakes warm in the oven and away from drooling guests. 
Serve hot pancakes drizzled with coconut vanilla cream topping. 
Makes 6 cakes
Prep time: 20 Min
Cook Time: 20 Min
Total: 40-45 minutes
How did this recipe work out?
Posted by
Sarah
on
Apr 26th, 2017
These are wonderful! I could have eaten the whole batch!
The cream is delicious too!
I'm thinking of ways to use the leftover cream.... But would just love to spoon it in my mouth!
Posted by
caryn
on
Apr 26th, 2017
Thanks so much - it's one of my favorites, too!
Leave a Reply