Autumn Nourish Bowl II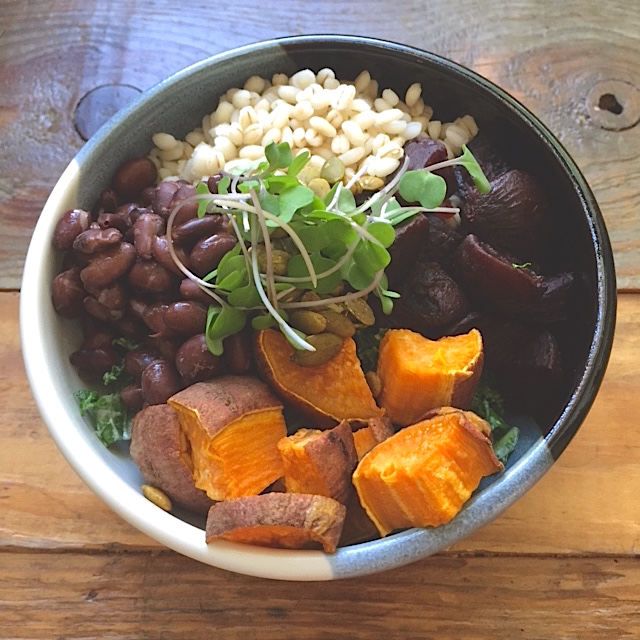 Bowls are back! (Did they every leave?) I dub bowls as "kitchen sink cooking". Autumn has arrived and let's take all the goodness the season has to offer and throw it in a bowl- whip up a tasty dressing and viola! Instant deliciousness that is interesting and nutritious!
Ingredients
Setup
Bowl
curly kale, washed and shredded
roasted beets
roasted sweet potatoes, washed, skin on, cubed
14 oz can of black beans, drained and rinsed
bulgur wheat, cooked per package instructions
pumpkin seeds
hemp seeds
kale sprouts
Dressing
1/2 cup cashews soaked for one hour
2 tablespoons Dijon mustard
1 clove garlic
juice of 1/2 lemon
fresh ground black pepper to taste
Directions
There are enough ingredients here to make several bowls and the amount you choose to put in your bowl is up to you.
Wash the kale. stack a few leaves on top of each other and roll. Cut the kale into thin ribbons.
Peel and cube the beets. Place them on a parchment paper lined pan and roast for 30 minutes.
Wash and cube the sweet potatoes to about the same size of the beets. Place the potatoes in a large bowl and give them a very short spray of olive oil, simply so they do not burn. Transfer to another parchment paper lined pan and also roast for 30 minutes.
Place all dressing ingredients in a blender and whirl until creamy.
Massage the dressing into the kale until it becomes soft.
Place some kale in the bowl and build with the rest of the ingredients.
Top with the seeds and the sprouts.
How did this recipe work out?
Leave a Reply