Black-Eyed Pea Cakes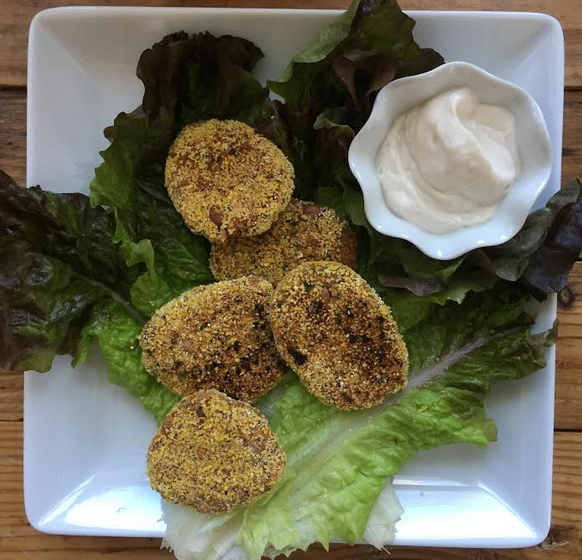 Eating black-eyed peas on New Year's Day is thought to bring prosperity. Why not encourage prosperous health by eating them all year long? Topped upon a bed of greens these gluten-free and vegan little cutlets usher in the year full of flavor and the promise of good health.
Ingredients
Setup
2-14 ounce cans of black-eyed peas, drained and rinsed (three cups)
1 small white or yellow onion, diced
1 jalapeno, de-seeded and minced
2 garlic cloves, minced
1 avocado
1/4 bunch of cilantro (optional) (mainly leaves)
1 tablespoon arrowroot powder
1 tablespoon nutritional yeast
2 teaspoons paprika
1 teaspoon onion powder
1/2 teaspoon baking powder
1/2 teaspoon salt
1/3 to 1/2 cup garbanzo bean flour (or any gluten free flour you like)
1/2 cup of cornmeal
Directions
Preheat oven to 400-degrees F.
Line a baking sheet with parchment paper and set aside.
Drain and rinse the black-eyed beans and set aside.
To a hot pan, add the onion and jalapeno and begin to saute. Do not add any oil, but add a few drops of water if it begins to stick. When the onion begins to caramelize, add in the garlic and continue to cook for another minute or so, careful to not burn the garlic.
Transfer the vegetables and 2 1/2 cups of the beans and avocado to a food processor. Add in cilantro (if using), arrowroot, nutritional yeast, paprika, onion powder, baking powder and salt. Pulse until well mixed, but not pureed.
Transfer this mixture to a large mixing bowl and add in the remaining beans and 1/3 cup flour. Mix well with your hands, if you think it might still be too wet and you're not able to form a ball with it, add in the remaining flour. Place the mix into the refrigerator for 15 minutes up to an hour.
Pour the corn meal on to a plate and patty up the cakes, almost to a cutlet shape. Think about making a ball, then press to make a patty and then press in the sides to almost make a football shape, still leaving it flat.
Dredge the cake in the corn meal and place on the parchment paper.
(I quickly spray the cakes at this point with a very fine mist of olive oil as I have found this prevents the cornmeal coating from burning.)
Bake for 15 minutes, flip and bake another 15 minutes. Allow to cool a bit - they will begin to firm up and not be so soft.
Serve on a bed of lettuce topped with a dollop of dairy-free sour cream. I'm a big fan of this Forks Over Knives Recipe.
 NOTE: If you do not have a food processor, you can simply mash all ingredients with a fork or potato masher.
Makes 12-14 cakes
How did this recipe work out?
Leave a Reply