Cauliflower Crust Pesto Pizza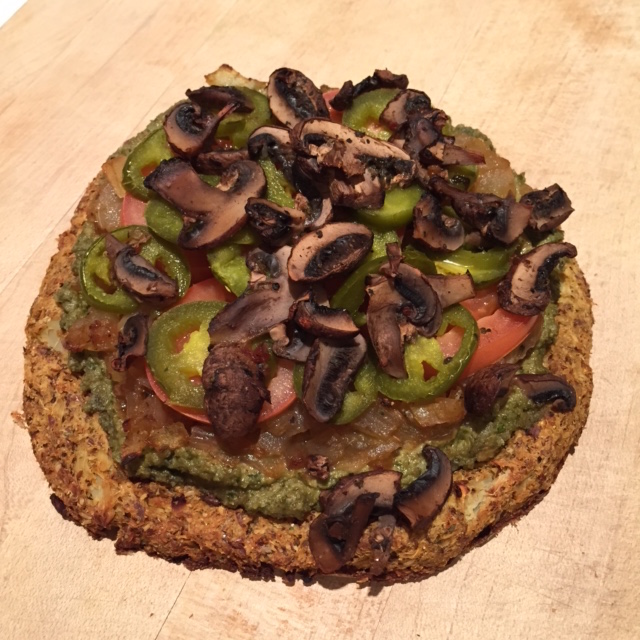 Pizza for one, hold the crap!
Grab a few heads of cauli, create a bar of toppings and you've got a night of 100% plant-based pizzas crankin' in your kitch!  No added oils (if you make my stupid easy pesto) or flours in the crust create a good for you and gluten free pizza.  Put the phone down and dial up the goodness. 
Ingredients
Setup
1/3 C pesto or make your own oil-free walnut pesto here
2 TBS flax meal
4 TBS water
4 1/2 C cauliflower rice (one large head of cauliflower)
1 TBS Italian Seasoning (I like Trader Joe's 21 Salute)
1/2 TBS nutritional yeast flakes
1 tsp smoked paprika
1/2 tsp sea salt
1/2 yellow onion, diced and sauteed
1 Roma tomato, sliced thin
Several slices of jarred jalapenos (optional)
1 C baby bella mushrooms, washed and sliced and sauteed (optional, but oh, so delicious)
Directions
in a small bowl/ramekin, whisk together the flax and warm water and allow to sit for the duration of prepping the cauliflower crust (at the very least 10 minutes). 
Break the cauliflower up into chunks small enough to fit into your food processor without overloading it.  You'll do a few batches.  Pulse the cauliflower until it reaches a the size of rice.  Transfer to a large bowl.  Repeat until you have used up the entire head. Bring a large saucepan of water to a boil and add in the cauliflower.  Boil for about 5 minutes and no more.  Drain in a mesh colander and allow it to sit there to cool. Place the cauliflower on a clean kitchen town and press.  You are trying to extract as much water as possible to reach a dry-ish product (my tofu people get this...).  I typically will go through a few towels. 
Transfer the cauliflower to a large mixing bowl and add in the flax mixture, Italian Seasoning, nutritional yeast flakes, paprika and salt.  Gently fold ingredients together and on a parchment paper lined baking sheet begin to spread out your "dough".  Shape in any way you like, but try to keep the thickness that of tossed crust, not too thin, not too thick, so maybe 1/3-1/2" thick.  I roll up the sides a little for added crispiness and it keeps the sauce in line, too. 
Bake for 45 minutes.  Here's what it should look like when it comes out of the oven: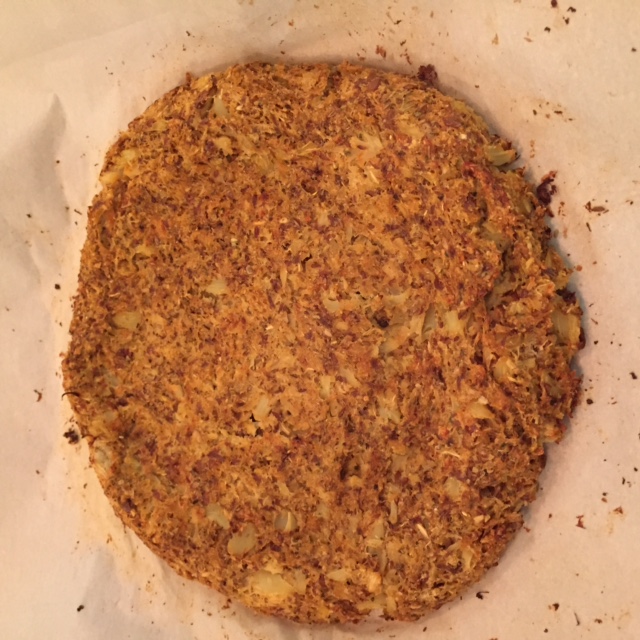 Now, spread on your pesto and top with the onions, tomatoes, jalapenos (optional), and mushrooms (optional).  Put your pizza back in the oven for another 17-20 minutes.  Allow to cool a bit, transfer to a plate, slice and devour.
How did this recipe work out?
Leave a Reply