Chocolate Cherry Bliss Balls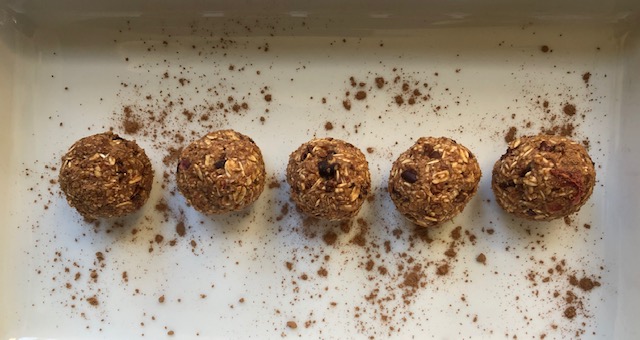 I was asked to create recipes for a presentation & food demo I gave to a group coming to learn about chronic inflammation. I see these balls over over the place (shoot, I've been making them for years!), but I've never really made them for a particular purpose - unless just trying to pack a nutritional punch into each one. Whether you are an athlete and you are combating chronic inflammation - or perhaps you are dealing with chronic pain and its sidekick, inflammation - try these Chocolate Cherry Bliss Balls. I've added organic (not dried) frozen tart cherries that are blended evenly throughout the batch to combat inflammation and soreness, high quality dark cocoa powder and nibs to act as antioxidants and whole rolled oats, hemp and flax to up the fiber in hopes to quickly usher out the resting pills that you might be taking for pain. These little guys are on a mission.
Ingredients
Setup
8-10 dates, pitted and softened in hot water for 30 minutes
1/4 cup reserved water from dates
1 cup frozen organic tart cherries (purchase pitted), defrosted
4 1/2  cups whole rolled oats, divided
2 heaping tablespoon of tahini paste
2 tablespoons dark cocoa powder
1 tablespoon ground flax seed
1 tablespoon hemp hearts
1 tablespoon vanilla extract
big pinch of sea salt
1/4 cup of cocoa nibs (optional)
Directions
To a food food processor add the dates and reserved water. Run until a paste forms, you may have to stop and scrape down the sides a few times. Add the cherries, 2 cups oats and tahini. Run again until well incorporated. Add the cocoa, flax, hemp, vanilla, remaining oats and salt. Run the machine again until mixed, but not pureed. You'll want some texture. Transfer to a mixing bowl and add the cocoa nibs, if using. Mix well with your hands. Pick off about 1" of mixture, ball up and place on a large tray or baking sheet. Yields about 24-30, depending on size.

Place in fridge for 2-4 hours. Will keep in the fridge in a sealed container for one month, or in the freezer for 3 months.
How did this recipe work out?
Leave a Reply