Mexican Hash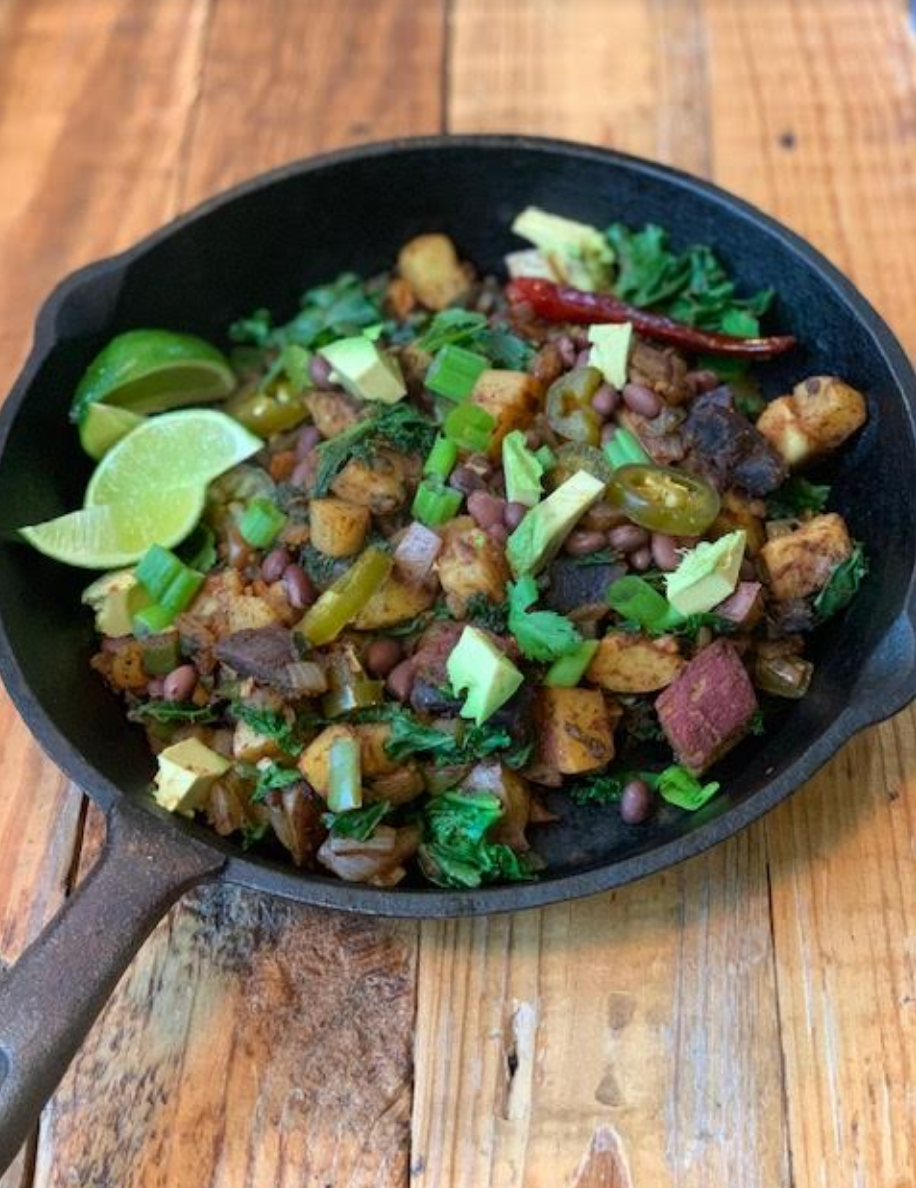 When Cinco de Mayo falls on a Sunday - you brunch, Mexi style!
Ingredients
Setup
2 pounds of potatoes -( I like to use tri-colored or even purple sweet potatoes), cleaned and chopped to 1" pieces, do not peel
1/2 cup sour cream
1/2 yellow onion, chopped small
1/2 poblano pepper, chopped small
1/2 green bell pepper, chopped small
2 garlic cloves, minced
2 teaspoons smoky chili powder
1 teaspoon paprika
1/2 teaspoon cumin powder
1 cup cooked black beans
1 cup finely chopped fresh kale
1/4 cup pickled jalapeno, chopped (I like Trader Joe's Hot and Sweet jalapenos)
1 avocado, chopped
1/2 lime, cut into 4 wedges
choice of salsa - optional
cilantro + green onions as garnish
Directions
Steam the potatoes for 10-15 minutes or until just barely soft. Drain and set aside.
In a separate pre-heated skillet, add the onions and peppers. Continuously stirring and adding a tablespoon of water at a time to de-glaze if the food starts to stick to the pan. When the onions become translucent, add the garlic, chili powder, paprika and cumin powder. Cook for another 46-60 seconds and then add the potatoes.
Cover and allow to cook for 3-4 minutes. Stir and repeat. You're looking to add a little crisp to the outside of the potatoes. Add in the beans, kale and jalapeno. Cover and allow the kale to wilt - about 2-3 minutes.
Transfer to 4 plates or a platter and top with avocado, lime wedges, salsa (if using) and cilantro and green onions. Serve with sour cream.
How did this recipe work out?
Leave a Reply