Secret Ingredient Chocolate Mousse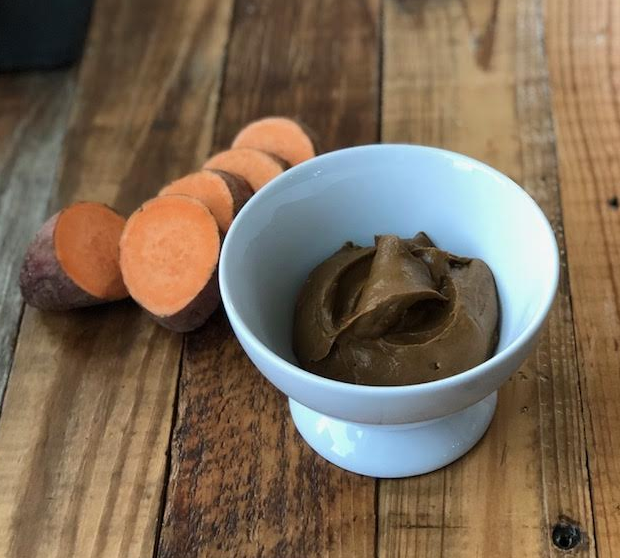 The soft, mellow sweetness of a cooked sweet potato, paired with dates, creamy cashews and quality cocoa powder makes a mousse you'll always keep in the fridge. A delicious dessert that offers vitamins, minerals and a punch of fiber, tasting like this? Yes, please!
Ingredients
Setup
6 dates, pitted
1/2 cup raw cashews
one large cooked sweet potato with the flesh scooped (about 1 1/2 cups) out -OR- or one 15 oz can sweet potato puree
1/4 cup cocoa powder
1/2 - 2/3 cup unsweetened plant-based milk beverage
1.5 teaspoon chia seeds
pinch of sea salt
Directions
Soak the dates and the cashews for at at least one hour.
Alternatively boil the cashews and dates for 10 minutes.
Discard soaking water and add to a blender. Add sweet potato puree, cocoa powder, 1/2 cup of the milk, chia seeds and salt. Begin to blend, scraping down the sides as needed. If it's really thick, drizzle in the rest of the milk, make sure you don't get it too thin. Taste as you go. If you need more of a chocolately flavor, add a teaspoon at a time of the cocoa. For more sweetness, add a well soaked or boiled date. Adjust flavors to your liking.
The flavor will deepen after chilled for a few hours.
How did this recipe work out?
Leave a Reply