The Ultimate Vegetable Soup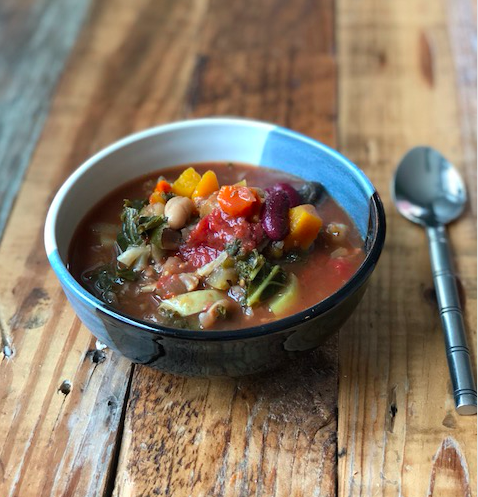 From greens to cruciferous to beans and roots, this is the tastiest, most nutrient dense and low-cal veg soup you'll need to stay healthy, satisfied and fit any time of the year.
Ingredients
Setup
1 jalapeno, diced (seeded if you prefer)
1 yellow onion, diced
1 shallot, diced
2 carrots, cut into bite size
2 stalks of celery, sliced into 1/4" cuts
3 cloves of garlic, minced
2 parsnips, cut into bite size
2 yellow squash, roughly chopped
1/2 cauliflower, cut into bite size
1/2 butternut squash, cut into bite size
10 ounces of mushrooms, roughly chopped
2 Tablespoons of dried oregano
1 1/2 tablespoons ground cumin
1 teaspoon sea salt
1 15 ounce can of cannellini beans, drained and rinsed
1 15 ounce can of kidney beans, drained and rinsed
28 ounces of San Marzano whole peeled tomatoes + juice*
1 14 ounce can of diced fire roasted tomatoes
2-3 cups chopped frozen kale
6 cups Vegetable Broth
juice of 1 lemon
Directions
This goes very quickly if you first prepare your mise en place. Turn up your favorite tunes or cue up a podcast and get chopping.
We are going to be doing this without using any oil and there's a bit of a trick here, but once you learn it, you can always apply it to sauteing your first vegetables. Bring a stock pot up to high heat. As the bottom of the pot heats, the molecules on the surface of the pot condense and contract. If you place the food onto this surface too soon, this is what grabs on to the food, causing it to stick. You want to wait for the surface to fully heat up where the molecules stop moving, thus creating a uniform (smooth) surface for which to cook your food.
To test and see if the surface is ready, drop a couple of drops of water onto the surface of the bottom of the pot. It it sizzles it is NOT ready. If the water balls up and acts like a mercury ball rolling around the pan, it IS ready. Here is a link to a blog post with two videos that show this process very clearly.
Now that your pot is ready, toss in the jalapeno, onion, shallot, carrots and celery. and bring the heat down to medium-high. Keep the vegetables moving around often, if they do begin to stick, add a little water or broth to deglaze. When the onions have become translucent, add in the garlic and continue to stir. After about 60 seconds add the parsnips, yellow squash, cauliflower, butternut squash and mushrooms. Stir well and add in the oregano, cumin and sea salt. Mix well again and continue to cook for about 5 minutes.
Next, add the beans and the tomatoes. When adding the whole San Marzanos, squeeze them in your hand slowly (watch it! They will squirt their juices!) and drop them in the pot. Add in the kale and the broth, cover and bring to a boil and down to a simmer. Allows to cook for 20-30 minutes. Stir in the juice from the lemon right before serving.
Makes 14-16 cups.
Freezes well.
*Make sure to use San Marzano Italian tomatoes. You can find them in any grocery store. They may be a dollar or two more than you're used to paying, but they really make the soup.
How did this recipe work out?
Leave a Reply