Walnut Coconut Carrot Cornbread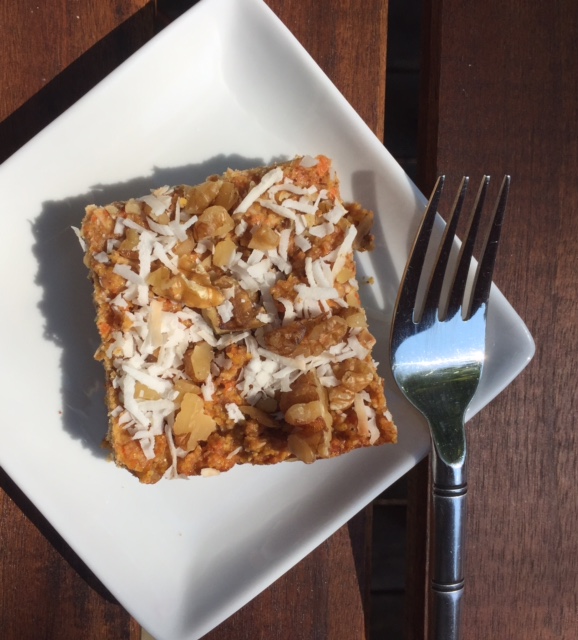 This new spin on your traditional cornbread will be a favorite as we usher in the Fall season. You'll love it so much that I'll bet it will show up on your Thanksgiving table.
Ingredients
Setup
3 carrots, peeled and roughly chopped
1 cup raw walnuts chopped small + 1/4 cup for topping
3/4 cup unsweetened shredded coconut + 1/4 cup for topping
1 cup unsweetened soy milk
1 teaspoon lemon juice
1/2 cup maple syrup
1/4 cup unsweetened applesauce
1 cup cornmeal
1 cup whole wheat flour
2 teaspoon baking powder
1/2 teaspoon nutmeg
pinch of sea salt
Directions
Steam the carrots until tender, about 10 minutes. Place them in a food processor and puree until creamy and set aside.

Preheat oven to 350 and spray a 9X13 baking dish with cooking spray, lightly.

Whisk the soy milk and lemon juice in a measuring cup and set aside. It will curdle.

To a large mixing bowl, add 1 cup of the carrot puree, maple syrup and applesauce. Stir well and fold in the walnuts and coconut. When the milk mixture is ready, whisk this into the carrot puree.

Combine the cornmeal, flour, baking powder, nutmeg and salt in a separate bowl. Mix well and pour in the wet ingredients. Fold together and pour into prepared baking dish.

Bake for 30 minutes. Top with remaining walnuts and coconut and bake for another 10 minutes. Cool for about 5-10 minutes and cut into squares.
How did this recipe work out?
Leave a Reply