Baked Kofta with Lemongrass Curry Sauce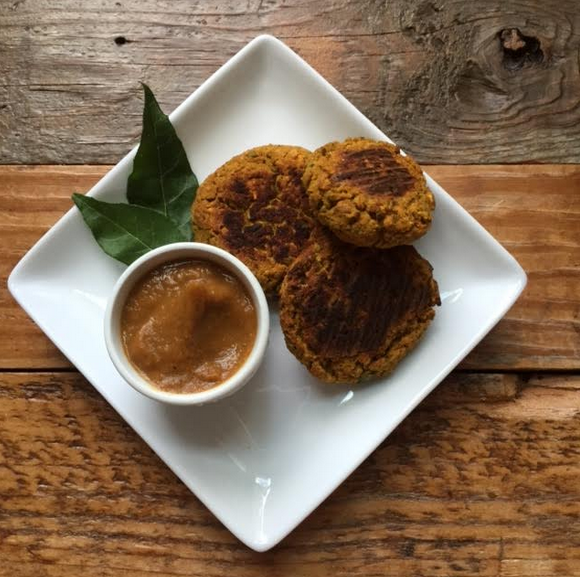 Typically fried, this traditional Indian delicacy forgoes the extra fat and calories by baking the kofta and nixing the oil from the sauce. The fresh lemongrass and curry leaves offer up a burst and balance in the sauce that might become a little addictive.
Ingredients
Setup
Kofta:
1 tablespoon ground flax seed
2 1/2 tablespoons water
2 sweet potatoes, cut into large cubes, skin on
1 cup frozen green peas, thawed
3/4 cup cooked chickpeas
1/2 cup garbanzo bean flour
1/4 cup nutritional yeast
1/2 teaspoon turmeric
1/2 teaspoon cumin
1/4 teaspoon coriander
1/4 teaspoon ground black pepper

Sauce:
1 1/2 teaspoon cumin seeds
1 1/2  minced ginger root
1 small yellow onion, diced
2 stalks of lemon grass, rough part discarded, meaty insides minced
1 hot chili pepper (serrano, red fresno, jalapeño), diced small
2 cups fresh tomatoes, roughly chopped
3/4 cup cooked cannelini beans
1 1/2 cup water
1/2 teaspoon garam masala
1/2 teaspoon turmeric
1/2 teaspoon cumin
1/4 teaspoon ground black pepper
20 fresh curry leaves
Directions
Preparing the koftas:
Mix the flax and water in a small bowl and set aside until it becomes gelatinous (about 10 minutes). Steam or boil the potatoes until they become soft.

Add the flax mixture, sweet potatoes, peas, chickpeas, flour and nutritional yeast to a food processor and pulse until well mixed, but still chunky. Add in the turmeric, cumin, coriander and pepper and mix again. Some small chunks are ok, but you want it mixed very well. Transfer the mixture to a bowl and refrigerate for at least one hour.

Preheat oven to 425- degrees F. Line a baking sheet with parchment paper and pick off about 1 1/2" of the mixture and roll in your hands. Press down softly to create a mini patty and place on baking sheet. Bake for 15 minutes, flip and bake for another 12 minutes.


Preparing the sauce:
In a large saucepan over medium heat, toast the cumin seeds for about 90 seconds, stirring often. Add in the ginger, yellow onion, lemon grass and chili pepper. Cook until the onions begin to brown, stirring often (about 4-5 minutes). Add in the tomatoes and cook for another 4 minutes, until the tomatoes begin to break down. Transfer the tomato mixture to a blender, add in the rest of the ingredients and blend until smooth. Pour the sauce back to the hot sauce pan and simmer for 15 minutes, it will begin to thicken and becomes gravy-like.

Plate the kofta and serve with the lemongrass curry sauce.


How did this recipe work out?
Leave a Reply