Buffalo Chickpea Chick'n Salad Sammie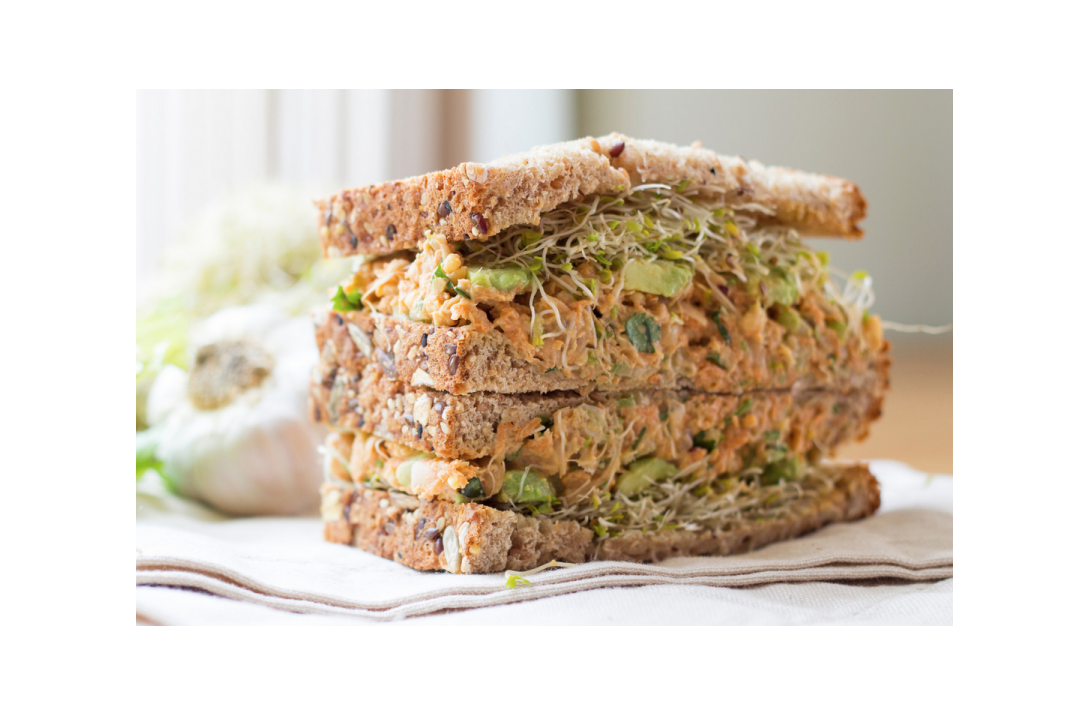 The chickpea salad sandwich (who am I kidding, I usually just grab a spoon and eat from the bowl) is a summertime staple in my fridge. Perfect to take to picnics, parties, quick lunches, etc... This buffalo version is new and it definitely kicks up the traditional one a notch!
Ingredients
Setup
CHICKPEA SALAD
2 14 oz cans of chickpeas, drained and rinsed (3 cups)
1/3 cup diced red onion
3 celery stalks, cut to 1/2" pieces
1/4 cup dill relish
1 tablespoons tahini
1 1/2 tablespoons Dijon mustard
pinch of salt
freshly crushed ground pepper
1/3 cup roughly chopped walnuts
1 diced bell pepper*
BUFFALO SAUCE
1 cup Franks Hot Sauce
2 tablespoons tahini
1 1/2 tablespoons nutritional yeast
1 1/4 tablespoon maple syrup
2 teaspoons coconut aminos
2 1/2 teaspoons white vinegar
3/4 teaspoon onion powder
1/2 teaspoon garlic powder
Directions
BUFFALO SAUCE
Add all ingredients to a blender and blend until smooth.
Store in a sealed container in the fridge.
Makes 1 3/4 cups
CHICKPEA SALAD
To a large bowl add all the ingredients except the walnuts. I find using my hands is easiest (please refer to video) to fold ingredients together and mash most of the chickpeas as well. When you get everything well mixed, add the walnuts and gently fold them in as well. Finally, add the buffalo sauce to taste, I add about 2-3 tablespoons.  The chickpea salad may seem a little dry, but have no fear, the buffalo sauce with help it all come together. Taste and adjust for flavor. Allow to chill in fridge for at least an hour and enjoy.
Keeps well in the fridge in a sealed container up to 7 days.
Makes 4 cups.
Spread on whole grain bread or stuff in a pita. I like to add cucumbers and sprouts or finely cut/shaved collards*
*I have recently added both a bell pepper and collards to this recipe as the vitamin C in the pepper helps aid in the absorption of the iron in the chickpeas and the collards add a good source of calcium. You can read more about how to get protein, calcium and iron in a plant-based diet here.

________

Do you know about our STREAMING PLUS membership? 
Our membership is built like a streaming service - you get a full library of plant-based cooking classes to watch whenever you want. PLUS, you gain access to upcoming interactive virtual cooking classes and a monthly accountability group call.
As a member you get:
Complete library of all past virtual classes - stream them whenever you'd like!
Free access to upcoming virtual classes
Library of easy and quick recipes: 100 and growing
Access to private Facebook group
Monthly accountability check-in and support group Zoom call with Caryn
Quarterly "Ask the Doc" call with Dr. Jim Loomis, our Medical Director
20% off all virtual multi-week programming
A community of support
To learn more, please visit us here.
How did this recipe work out?
Leave a Reply