Firecracker Lettuce Wraps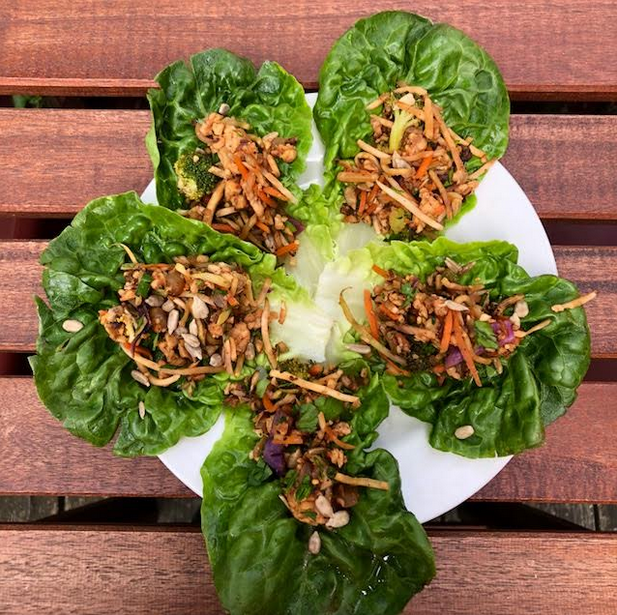 Perfect for this 4th of July! These lettuce wraps are booming with flavor, sparkling with a bit of heat and offering a grand finale of satiation without weighing you down at all.
Ingredients
Setup
FILLING
1/2 yellow onion, diced
1 jalapeno pepper, seeded and diced
3 cloves garlic, minced
1 package tempeh, crumbled (I pulse in the food processor 5-6 times)
1/2 head of cabbage, shredded -OR- 1 bag of slaw with various vegetables
1/2 bunch Italian parsley, roughly chopped
2 tablespoons sunflower seeds
lettuce cups, endive leaves or mini cabbage cups
DRESSING
3 tablespoons of your favorite hot sauce (sriracha, Tabasco etc.)
2 tablespoons liquid sweetener (I use date paste)
2 tablespoons coconut aminos
2 tablespoons rice wine vinegar
2 teaspoons dried chives
1 teaspoon garlic powder
1 teaspoon onion powder
Directions
Make your dressing first. Whisk together all ingredients (I shake in a mason jar) check for heat, add more hot sauce if needed. Set aside.
To a hot pan, add the onion and jalapeno. Bring heat down to medium-high. Stirring often, when the onion becomes translucent, add the garlic and continue to stir for only a minute. Add a little water to de-glaze. Toss in the tempeh and 1/2 of the dressing. Stir and cover, allowing the tempeh to cook and get a little crispy. Stir after a couple of minutes and repeat a few times. You may have to add a little water to de-glaze, but not much. When the tempeh is a little crispy and browned a bit, add in the cabbage and the rest of the dressing. Stir well and cover for about 3-5 minutes. Take off heat and stir in the sunflower seeds and parsley. Stir well and scoop on to lettuce leaves.
TIP: This is equally delicious as a chilled dish. Simply make it several hours to the night before and allow the flavors to develop. You may want to make another half batch of the dressing to toss in before serving.
How did this recipe work out?
Leave a Reply