Raw Zucchini Noodles with Broccoli Cauliflower Meatballs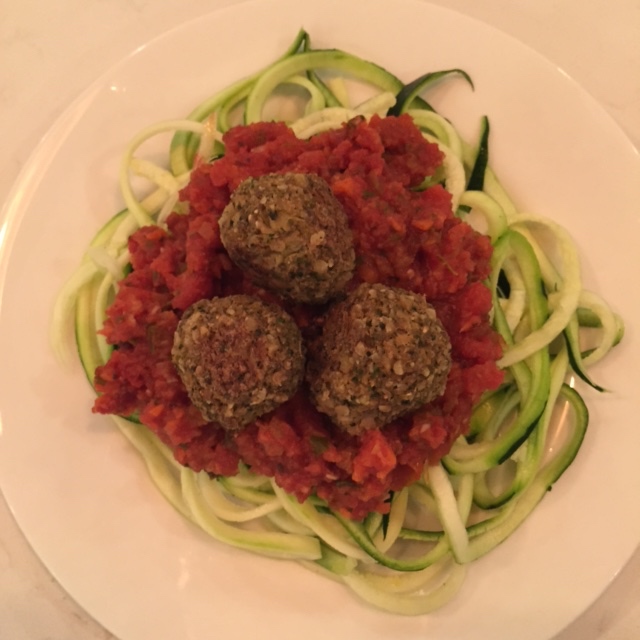 This is my 2015 Valentines Day submission and I dedicate it to all you men.  Let me let you in on a little something, all we gals really want is some thoughtfulness on this Hallmark Holiday, so my gift to you - the thought that will have your sweetie calling all her besties the next day swooning over this SUPER EASY dinner you will fix for her.
Ingredients
Setup
2.5 TBS chia seeds (you can get them at any grocery, buy them and you can use the rest in your post workout protein shakes later.  You're welcome.)
4 TBS water
2 C cauliflower, cut into pieces that will fit into your steamer (buy a steamer, man!)
2 C broccoli, cut into pieces that will fit into your steamer
1.5 C walnuts
1/2 C fresh basil
3 TBS fresh parsley
2 TBS nutritional yeast (this is NOT brewers yeast, you'll usually find it in the bulk aisle, check with customer service)
1 TBS ground cumin
1 TBS dried oregano
1/2 TBS garlic powder
1/2 TBS onion powder
sea salt to taste
3-4 zucchinis
2 C marinara sauce (make your own or buy your favorite), warmed up on stove top
Directions
In a small bowl, whisk together the chia seeds and the water. Allow this to sit for at least 20 minutes.  Check it every so often making sure all the seeds are submerged and becoming gelatinous. The longer it sits, the better, so don't fret if it's been hanging out for an hour or so. 
Now that you have cut up the cauliflower and the broccoli, in batches, steam it for about 10 minutes each.  Drain and allow to cool. Transfer the vegetables to a food processor (not a blender), and pulse the vegetables until they are in tiny bits, but not pureed.  The pieces will be about the size of rice. 
Transfer the vegetables to a large mixing bowl and in the food processor, add in the walnuts, herbs and spices (including the nutritional yeast). Pulse and when the mixture is in pieces also about the size of rice, add this to the bowl as well.  Now, add in the chia/water mix.  With your hands, mix all the ingredients.  Taste.  Add in more spices if you like and allow to chill in the refrigerator for at least one-half hour. 
Preheat over to 350.
Line a baking pan with parchment paper (or you can spray the pan with a non-stick spray) and little by little, pick off about 1/2" -3/4" (ish) pieces of the mixture and gently roll into balls. It should make about two dozen balls (leftovers!!). 
Bake the balls for 20 minutes, pull them out of the oven and turn them over one by one.  Bake for another 20 minutes.  Allow them to cool slightly when you finish cooking them as they will firm up a little more.  
At this time make your zucchini noodles. You can simply take a potato peeler and begin peeling away or you can buy this fun little contraption I found at Bed, Bath and Beyond. Begin spiraling the zucchinis and plate them up. You don't need to cook them. 
Now, on top of your noodles, scoop on some hot marinara and top with a few of your veggie meatballs.  If you have any leftover uncut basil leaves, stick one of those suckers on top for presentation points and Viola! you are a baller...!
Video
How did this recipe work out?
Leave a Reply