Three Sisters Stew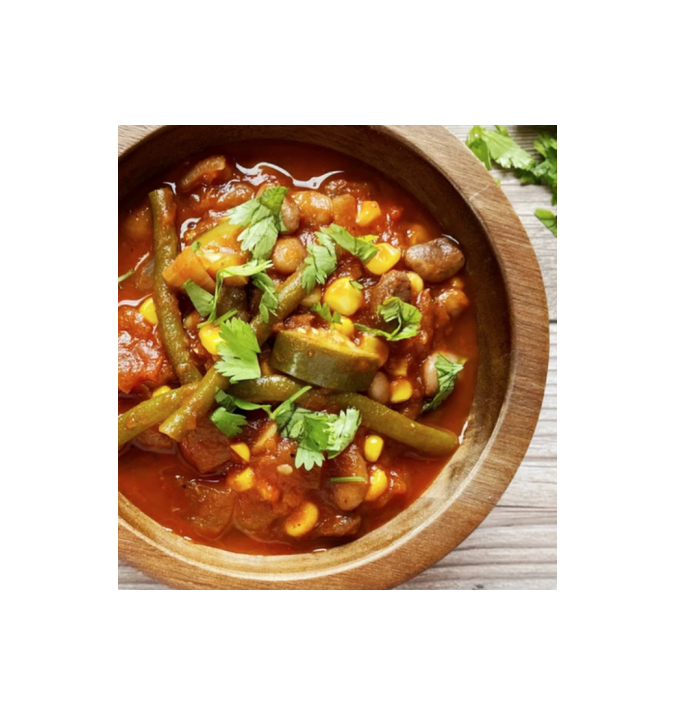 "...legend these three plants when planted together thrive in the same way three sisters can be found to be inseparable. The Native Americans chose to plant corn, beans and squash in the same mounds, which created a sustainable system that provided for soil health and fertility. The connection of these three plants gives us a look back to how things were done when the America's were first being inhabited and agriculture was in view as far as the eye could see."

Let's get back to our roots and make a simple and delicious meal to share with others during our holiday season. The Fruit and Nut Cornbread Muffins pair great with this!
Ingredients
Setup
•

 
2 pounds butternut squash, cooked and cubed - fresh or frozen
•

 
1 large yellow onion, chopped
•

 
6 cloves of garlic, minced
•

 
1 yellow or orange bell pepper, chopped small
•

 
2 jalapenos, seeded and membranes scraped out, chopped small
•

 
1

 
14 ounce
 

diced tomatoes with juice
•

 
1 14 ounce can pinto beans, drained and rinsed
•

 
8 ounces fresh or frozen corn
•

 
1 tablespoon dried oregano
•

 
1/2 tablespoon ground cumin
•

 
1/2 tablespoon smoked paprika
•

 
1/4 tablespoon chili powder
•

 
salt and pepper to taste
•

 
1 cup of water or broth
•

 
1/2 bunch cilantro, leaves only, torn for garnish
Directions
In a hot large pot or Dutch oven, add the onion and continually stir until it is golden. Add a teaspoon of water as needed if sticking. Add garlic and cook for 60 seconds. Add the rest of the ingredients + 1 cup of water or vegetable broth, except the cilantro and cover. Simmer for 20 minutes.
Best to take off heat and allow stew to sit and then heat through. Serve with corn bread/muffins to get that yummy broth at the end!
 -Adapted from Nava Atlas
____
Do you know about our virtual membership?  We call it the Center for Plant-based Living Community Support Club and we'd love to have you!
As a member you get:
Complete library of past virtual cooking classes + all recipes
Library of easy and quick recipes: 100 and growing
Access to private Facebook group
Monthly accountability check-in and support group Zoom call with Caryn
Quarterly "Ask the Doc" call with Dr. Jim Loomis, our Medical Director
20% off all virtual multi-week programming
A community of support
To learn more, please visit us here.
How did this recipe work out?
Leave a Reply