Vegetable Tofu Egg Scramble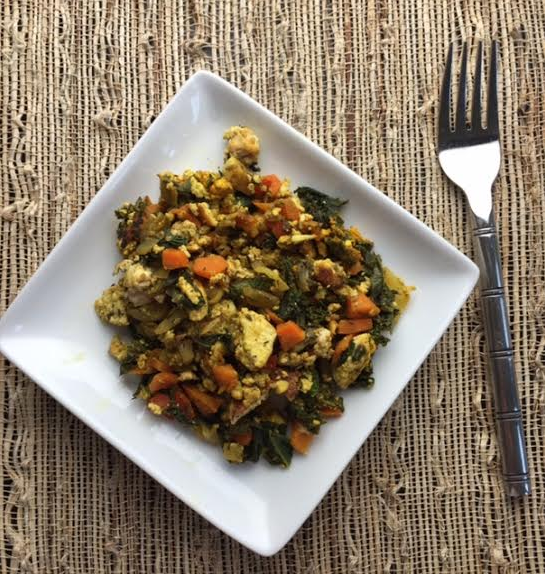 Tofu, yes you ca-do! This is a perfect brunch dish (anytime, really) as it's easy enough to whip up for just your or a crowd. It keeps for about 3-4 days, covered in the fridge, and it very versatile. Add whatever vegetables you'd like (or maybe none at all - I don't want to hear about that!), spice it up in any way you see fit for your hungry guests and enjoy.
Ingredients
Setup
1 cup vegetable broth
1/2 large yellow onion, diced
2 garlic cloves, minced
1 12 ounce block of extra firm tofu (preferably one that has been vacuumed sealed)
2 carrots, diced small
1/2 red bell pepper, diced
handful of a dark leafy green of your choice, shredded and then diced (ie: kale, collards, swiss chard)
1/4 cup water
1 teaspoon nutritional yeast flakes (optional)
1/2 teaspoon cumin powder
1/2 teaspoon dried thyme
1/2 teaspoon dried rosemary
1/2 teaspoon dried oregano
1/4 teaspoon turmeric
pinch of sea salt and ground black pepper
1/8 teaspoon black salt (kala namalk)*
Directions
In a large skillet over medium to high heat add a few tablespoons of the broth. (NOTE- I have suggested preparing one cup of broth because you will see that opposed to sauteing in oil, the broth will evaporate and you will need to add a little at a time as needed so that you do not burn your dish.)
Once the broth is hot, add in the onions. Give them a few minutes to become translucent and wilt a little. Add in the garlic and stir. Only allow these to cook for 30-60 seconds. If you burn the garlic it tends to become bitter. Next crumble the tofu with your hands and add to the skillet. Mix all ingredients, add a little water to prevent sticking and then pat everything down with your spatula and cover. Bring the heat down just a little. The idea here is to eventually get that barely crispiness of real scrambled eggs - if that's how you like them. After a few minutes and using a spatula that can get under the tofu to hold on to that crispy outer covering, begin to flip your ingredients. Add in the carrots and pepper. Press down again and wait for more sides to crisp up. Toss and add the greens in.
In a separate bowl, mix the remaining spices (except the black salt) in the 1/4 cup water, whisk well and add to the skillet. Incorporate all the flavors by mixing well, cover and allow to cook a few more minutes. If the dish is ready, but there is still a little too much water, uncover and allow the water to evaporate, the tofu eggs will become crispy again. Finally, add in the black salt, mix well and serve
Serve hot with 100% whole wheat toast and hummus or mashed avocado.
Additional add ins:
Mushrooms
Asparagus
green beans
black beans (this would be great as a Southwest black bean breakfast burrito)
 *You may be be able to find black salt in your International grocery store, if not, you can go to Amazon and order it.
Video
How did this recipe work out?
Leave a Reply