Chocolate Candy Cane Truffle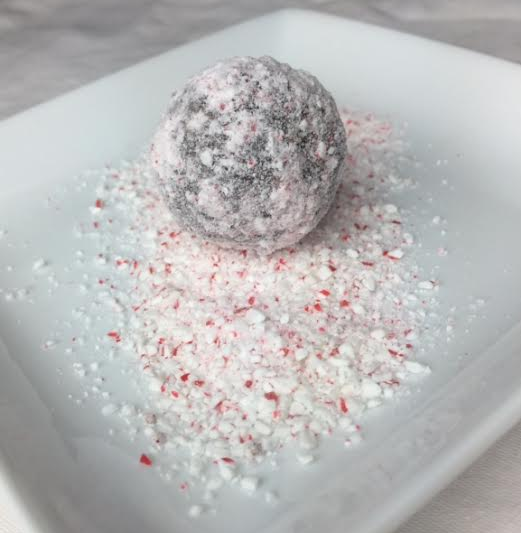 Walnuts and flax for your omega 3's, coca powder as an anti inflammatory, peppermint for that fresh mouth feel. Why wouldn't you make these little suckers? These guys are NO-BAKE and I've used dates not only as a binder, but also as the sugar component, no guilt here!
Ingredients
Setup
    3/4 cup raw walnuts
    1/2 cup raw almonds
    8 Medjool dates, softened in hot water for 20 minutes and then pitted
    2 tablespoons ground flaxseed
    1/2 cup cocoa powder
    2 teaspoons vanilla extract (alcohol-free)
    1 teaspoon peppermint extract (alcohol free)
    1/2 teaspoon sea salt
    2 tablespoons water
    4 regular sized candy canes, chopped to a powder*
Directions
Place all ingredients in a food processor until it starts sticking together.

Pour the candy cane powder on to a plate for rolling.

Pick off about an inch of the mixture and roll in your hands. Next roll the mixture on the plate with the candy cane powder. Carefully slide the truffle on to the skewer.

*I broke up the candy canes and placed them in my high speed blender and pulsed a few times. You can also place the candy in a kitchen towel and then in a sealed Ziploc and pound with a mallet.

Makes 24 truffles
Video
How did this recipe work out?
Leave a Reply