Lentil Chow for a Crowd (freezer friendly)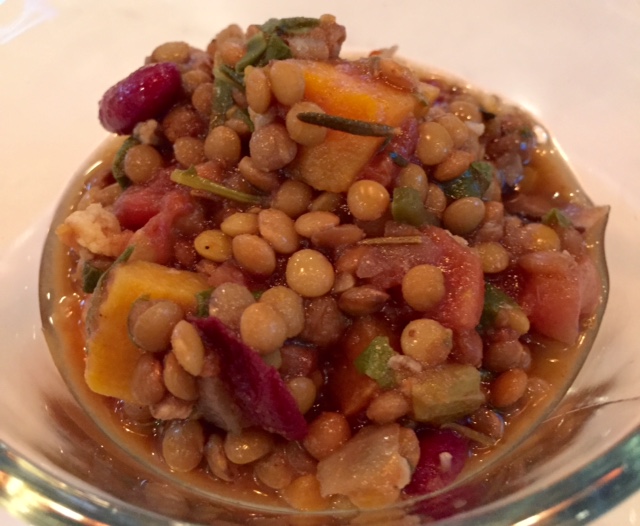 The most common question I receive from clients is "I want to lose weight, can you help me?".  I tell them no.
I say, "I can teach you how to cook foods that will nourish your body the with the nutrients it needs to run effectively and efficiently, the side effect of this weight loss."  They seem ok with that answer. 
By eliminating oil and packing this chow with vitamins, anti-oxidant rich, anti-inflammatory, immune boosting foods, you my dear, will not even realize we will soon be seeing less of you...
Ingredients
Setup
1/4 C +6 C vegetable broth
3 carrots, diced
3 stalks of celery, diced
1 yellow onion, diced
1 leek, cut lengthwise and then sliced into half moons
4 cloves of garlic, minced
8 oz mushrooms (any kind, I used shiitake)
14 oz can of diced tomatoes and 14 oz can of pureed tomatoes OR 28 oz diced tomatoes pouring half of the can in directly and pureeing the second half in a blender or with a immersion blender directly in the can.
3 TBS chili powder
2 TBS dried thyme
2 TBS rosemary
1/2 TBS red pepper flakes
scant of sea salt and ground black pepper
2 sweet potatoes, cut into 1" cubes (leave skin on)
2 C brown lentils
14 oz can kidney beans, drained and rinsed
1/2 head of cauliflower, cut into 1" pieces
10 oz of baby kale, washed and roughly chopped
2 TBS balsamic vinegar
Directions
Over medium-high heat, pour 1/4 of the vegetable broth in a large sauce pan.  Add the carrots, celery, onion, leek, garlic and mushrooms.  Stir often and add in more broth or water as it evaporates.  (This is called a "healthy saute' as you are not using oil). Once the onions becomes transparent and the mushrooms have released their juices, add in the tomatoes and spices, including the salt and pepper.  Stir and bring to a slow boil. 
Set your 6 QT crock pot to high for six hours and transfer the mixture to the pot.  Now, add in the sweet potatoes, lentils, kidney beans and cauliflower.  Stir well and allow to cook.  If after a couple of hours you see the liquid is being soaked up by the lentils, first give it a good stir and add in either more broth or water so that it just covers your ingredients. When the six hours is up, add in the baby kale, stir very well again and allow it to sit for about 10 minutes.  Right before you serve, splash in the balsamic vinegar, mix well and dish it out!
This makes 12 servings and freezes well.
Freezing directions: Pour servings into glass mason jars and leave a little space at the top for expansion.  Your soup will be good for 6-8 weeks.  Thaw overnight in the refrigerator or in a sink filled with warm water.  Reheat over stove top.  Re-season to taste.
How did this recipe work out?
Leave a Reply