Nourshing Nosh Bites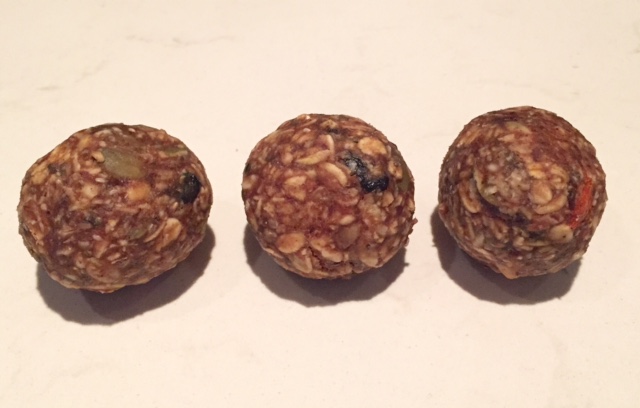 Created for an upcoming event I will be doing here at Dimvaloo in St. Louis that features Lorna Jane Active Living, I have created what I believe is quite possibly the the greatest pre/post workout nourish bite you can offer that beautiful bod of yours.  Packed with all the right complex carbohydrates, fats from sources that offer fiber to keep your blood sugar in check and of course adequate protein to continue to build the muscle you work so hard at building.  Nosh.  Nourish. Nom.
Ingredients
Setup
24-26 Medjool dates
1/2 C creamy, no salt added peanut butter, warmed
1 TBS vanilla
2 C whole rolled oats, divided
1 C raw cashews, chopped
1/2 C dried cherries
1/4 C dried blueberries
1/4 C goji berries
1/4 C pumpkin seeds
1/4 C coconut, dried, shredded and unsweetened
2 TBS ground flaxseed
2 TBS hemp seed
1 TBS chia seed
1.5 TBS allspice
Directions
Line a pan with parchment paper.
Place the dates in a bowl of hot water for about 20 minutes and then pit them.  Drain the bowl and transfer the dates to a food processor.  Mix until a paste forms.  You'll have to add a little warm water to get it moving, do this as the food processor is working. While you are creating the paste, warm the peanut butter in the microwave or stove top, just until it is easy to stir, but not too hot.  Add this into the food processor as it is still in motion.  Next, add in the vanilla.  Stop and add in 1 cup of oats and pulse until integrated. 
Scoop out the mixture into a large mixing bowl, add in the rest of the ingredients and mix well with your hands. If it's really sticking to your hands add in more oats. If it's falling apart, add in a little water at at time.  Adjust to taste.  Refrigerate the mix for one-half hour, covered.
Pick off about a 1 1/2" piece and roll.  Place the ball on to the jellyroll pan and repeat until finished. Refrigerate for an hour to overnight.
How did this recipe work out?
Leave a Reply