Tamale Bowl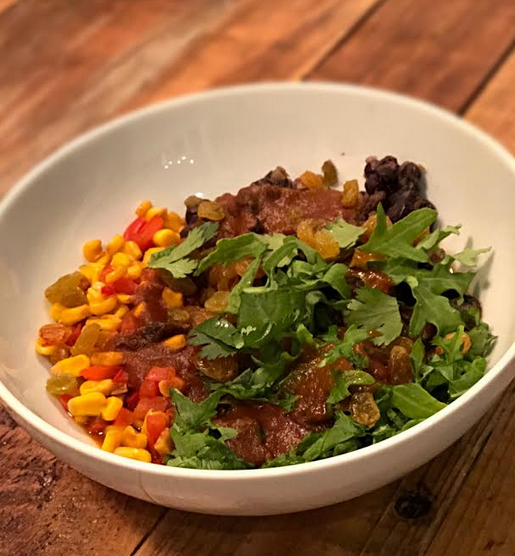 Craving Mexican tonight? This tamale bowl is perfect! The creamy, cheesy polenta is a surprise at the bottom, topped with roasted corn, sweet bell peppers, a back bean and green chile mixture, fresh baby kale and topped with a spicy, smoky chipotle tomato sauce!
Ingredients
Setup
POLENTA
4 cups vegetable broth
3/4 cup polenta (corn grits)
1/4 nutritional yeast
3 dates, pitted and soaked in hot water for 30 minutes
1/2 white onion, chopped
2 garlic cloves
1 carrot, chopped
2 chipotle peppers + 3 tablespoons adobo sauce (add a pepper for more heat)
6 ounces tomato paste
1 tablespoon Mexican oregano
1 teaspoon garlic powder
1 teaspoon onion powder
3 cups water
BEANS
1/2 white onion, minced
2 garlic cloves, minced
1 4 ounce can chopped green chilies
1 14 ounce can black beans, drained and rinsed.
CORN
8 ounces frozen corn, defrosted
1 red bell pepper, minced
GREENS and GARNISH
4 cups baby kale
1/4 cup golden raisins for garnish
cilantro for garnish
Directions
POLENTA
Bring the vegetable broth to a boil and slowly add in the corn grits. Pull heat down to medium and stir often for 30 minutes. Stir in nutritional yeast well and pull heat down to simmer until ready to serve.
SAUCE
Add all sauce ingredients to a blender and run it until very well mixed and there are no remaining clumps. Transfer sauce to a sauce pan. Bring to a boil and down to a simmer and serve when remaining parts of the recipe is ready.
BEANS
To a hot skillet, add the onion and a pinch of salt. Bring heat down to medium. Stir often and deglaze with a few drops of water as needed. When the onion begins to brown a bit, add the garlic. Stir for 60 seconds and add the chiles and beans. Add 1/4 cup water and cover. Allow to cook.
CORN
Add corn to a hot skillet and toss often. When it begins to char a bit, add the bell pepper and pull heat down to low.
ASSEMBLY
To a bowl, add a large scoop of polenta, topped with the corn mixture, the black beans and kale. Drizzle on the sauce and garnish with raisins and cilantro.
Serves 4
How did this recipe work out?
Leave a Reply