Vegan Bone Broth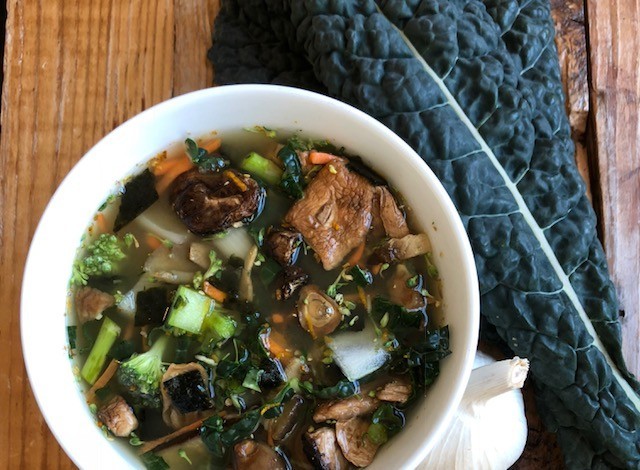 The staying power of bone broth to both the culinary and nutrition arenas has been mildly impressive to me, so I thought I'd give it a closer look to try and understand why it is so desirable. After researching, I decided to create my own vegan bone broth and it's delicious!
Ingredients
Setup
12 cups water
1/4 cup of miso (fermented foods help aid digestion, boost immune function and energy)
1 yellow onion, cut into 8ths (aids in healing the gut lining)
2 garlic cloves, minced (aids in gut healing)
3 ounces dehydrated* mushrooms (any type), roughly chopped (anti inflammatory and immune boosting)
1/2 bunch asparagus, chopped to 1/2" pieces ( enhances immune system, fights inflammation.)
1 cup broccoli florets, cut to bite size (mobilizes reparative stem cells)
3 carrots, shredded (vitamin A aids in healthy skin)
3 stalks celery, cut to 1/2" slices (aids in collagen producing)
a few leaves of kale, chopped small (high in calcium and aids in bone density)
1/2 bunch parsley, chopped, leaves only (gut healing)
a small nub of both fresh turmeric and ginger, minced (anti-inflammatory)
2 sheets of sushi nori, shredded small (aids in collagen producing and induces a calming effect)
Freshly ground pepper (enhances the absorption of turmeric)
Directions
Add all ingredients to a slow cooker and cook for 6 hours on high.
This will fill up a large crock pot, but if you'd rather not have so many servings, simply decrease the amount of the ingredients. Alternatively to cooking in a slow cooker, simmering for an hour or so on the stove top is just fine. I chose this method because traditional bone broth is cooked for several hours to break down the collagen in the bones to release reparative amino acids. 
To understand why the heck I made this and to learn more about bone broth and how it can be made vegan, I did a blog post. I hope you enjoy this soup as much as I do!
*Fresh or frozen mushrooms will also work
Makes 16 cups
I also took this to Great Day St. Louis and you can watch that segment here.
How did this recipe work out?
Leave a Reply