November 8, 2017 9:01 PM
Vegan Bone Broth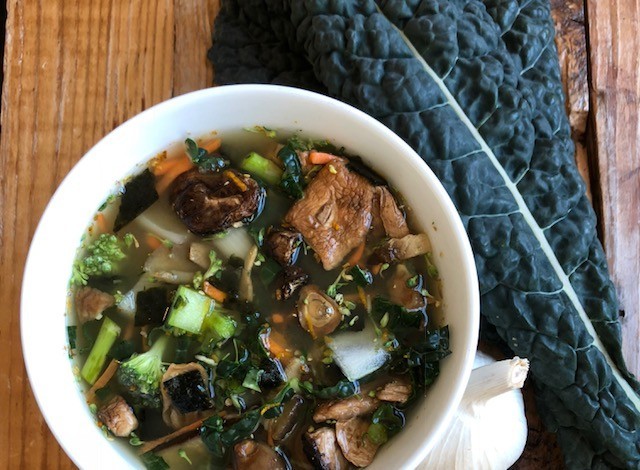 The staying power of bone broth to both the culinary and nutrition arenas has been mildly impressive to me, so I thought I'd give it a closer look to try and understand why it is so desirable. 
As far as I can see, the big attraction is collagen and a close second is cartilage. Collagen is a hard, insoluble, and fibrous protein that makes up one-third of the protein in the human body and it gives skin strength and elasticity. It supports healthy skin, hair and nails and it's a great anti-inflammatory agent, to boot. We get it, collagen rocks our own personal beauty department.
Cartilage is the smooth covering over the ends of bones in joints and is a type of connective tissue in the body that has a tough, flexible matrix made of collagen, protein, and sugar. Again, a necessity and when it's in short supply, it's not a good day. 
The popular claims vary a little, but the common belief is that as the bones boil down over several hours, the collagen and cartilage are broken down into two highly valued amino acids, proline and glycine. It's these aminos that are the impetus to improving our skin and helping wrinkles melt away, to strengthening our tendons and connective tissues, thus resulting in stronger, healthier bodies. But, it's more complex than that. It's not enough simply to eat these foods and poof! you're stronger, healthier and prettier. For example, the mechanism of collagen repair is complex. It requires stem cell mobilization, it needs cells to lay down new connective tissues and more to maintain the new tissue. These are all activated by phytochemicals (plant chemicals) and vitamins. It's a complex process, but thankfully the compounds needed to activate the molecular machinery to re-build the connective tissues are all found in plants! And, it's not necessary to consume collagen to build collagen.
As for proline and glycine, they are not essential amino acids, meaning we don't need to seek them out in our food because our body already produces them. If we are getting enough protein (if you are getting enough calories every day, you are getting enough protein), chances are very good that you are making these amino acids to help your body hum along happily.
We are all very well aware that not all food is created equal. Proteins from animal foods are going to be quite acidic and tax the body considerably. Before those extra proteins can be expelled from the body they need to be alkalinized, and that happens by robbing our bones and cells of calcium. That's a pretty big burden to put on your body every day.
There's good news! Plant proteins are not acidic and work in harmony with our body. Additionally, when feeding your body whole, plant-based foods, you're also getting a wide range of phytochemicals that it thrives on to grow, heal and maintain excellent health.
Because I enjoy creating plant-based versions of many omni-delights, I challenged myself to whip up a vegan bone broth that promotes many of the same claims as the traditional version.
In researching many different bone broths, though they are not all the same, they do mostly make the same claims: (1) promote collagen production, (2) are anti-inflammatory, (3) are rich in minerals like calcium and phytochemicals (4) improves immune function, digestion and improves energy, (5) gut healing and lining repair (think leaky gut). I have also decided to add compounds not normally found in bone broth, but is needed for stem cell mobilization to really connect all the dots.
Here's what I came up with.
12 cups water
1 yellow onion, cut into 8ths (aids in healing the gut lining)
2 garlic cloves, minced (aids in gut healing)
3 ounces dried* mushrooms (any type), roughly chopped (anti inflammatory and immune boosting)
1/2 bunch asparagus, chopped to 1/2" pieces ( enhances immune system, fights inflammation.)
1 cups broccoli florets, cut to bite size (mobilizes reparative stem cells)
3 carrots, shredded (vitamin A aids in healthy skin)
3 stalks celery, cut to 1/2" slices (aids in collagen producing)
a few leaves of kale, chopped small (high in calcium and aids in bone density)
1/2 bunch parsley, chopped, leaves only (gut healing)
a small nub of both fresh turmeric and ginger, minced (anti-inflammatory)
2 sheets of sushi nori, shredded small (aids in collagen producing and induces a calming effect)
Freshly ground pepper (enhances the absorption of turmeric)
1/4 cup yellow miso
Add all ingredients (except the miso) to a slow cooker and cook for 6 hours on high. Adjust flavors / ingredients as you desire.
This will fill up a large crock pot, but if you'd rather not have so many servings, simply decrease the amount of the ingredients. Alternatively to cooking in a slow cooker, simmering for an hour or so on the stove top is just fine. I chose this method because traditional bone broth is cooked for several hours to break down the collagen in the bones to release reparative amino acids. 
A few minutes before you are about to eat, mix the miso with some of the broth in a little bowl. When it dissolves and pour it into the crock. Mix well.
I hope you enjoy this soup as much as I do!
*Fresh or frozen mushrooms will also work
__________________________________
Do you know about our STREAMING PLUS membership? 
Our membership is built like a streaming service - you get a full library of plant-based cooking classes to watch whenever you want. PLUS, you gain access to upcoming interactive virtual cooking classes and a monthly accountability group call.
As a member you get:
Complete library of all past virtual classes - stream them whenever you'd like!
Free access to upcoming virtual classes
Library of easy and quick recipes: 100 and growing
Access to private Facebook group
Monthly accountability check-in and support group Zoom call with Caryn
Quarterly "Ask the Doc" call with Dr. Jim Loomis, our Medical Director
A community of support
To learn more, please visit us here.
Tagged Under:
What do you think?
Leave a Reply