October 6, 2016 5:10 PM
Autumn Nourish Bowls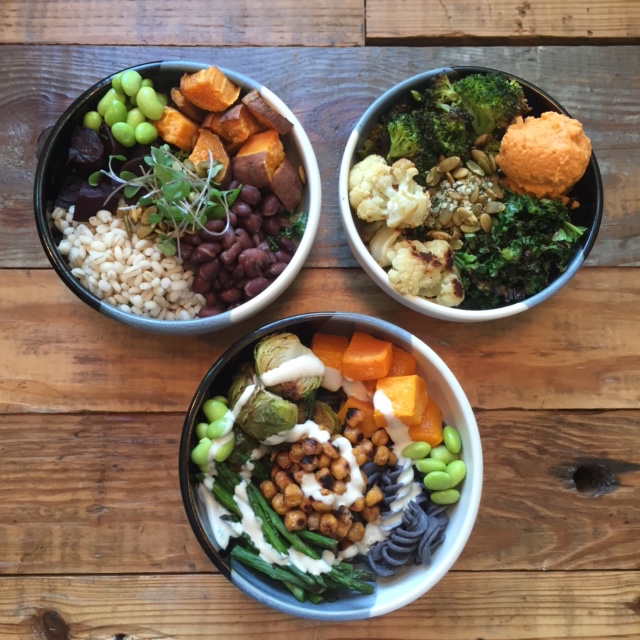 Because there are so many awesome flavors of this fall season, I created three Autumn Nourish Bowls for my next television segment. 
All of the flavors are somewhat interchangeable and I encourage you to play around. Remember, YOU are the boss! If you are not a fan of beans, add in some roasted, cubed tofu. Not keen on rice, sub in quinoa. Not a friend of kale? Try Swiss chard. You get the idea..
The sun-dried tomato offers a nice tang to the muted vegetables in one of these bowls and I particularly enjoy that punch, however the Creamy Cashew Dijon also hits it out of the park, too.
Autumn Nourish Bowl I is bright and colorful with the assuming butternut squash and Brussels. The surprise here is the black bean pasta (yum!) and crunchy roasted chickpeas. I've pulled together with a Tahini Miso Dressing.
Autumn Nourish Bowl II brings on the earthiness of sweet potatoes and bulgur wheat. Adding black beans and roasted beets that sit on a bed of Creamy Cashew Dijon is really just delightful.
Autumn Nourish Bowl III is questionably strictly an Autumn bowl, however, I had the ingredients and whose to say you can't enjoy it now - in the fall season? I am!
Tagged Under:
What do you think?
Leave a Reply