November 18, 2015 12:42 AM
Spa-Nut-Chini (Vegan Turducken)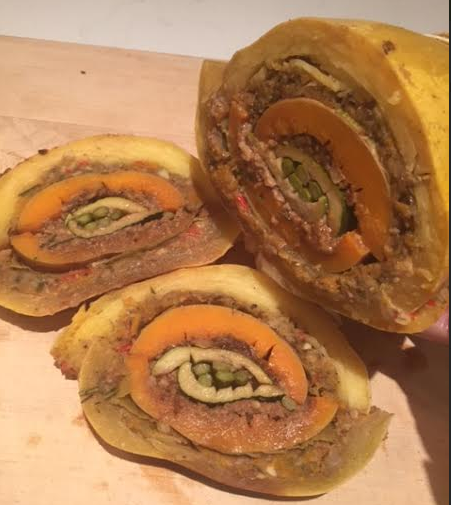 As unappealing as it sounds to me, I have to give the creator of the Turducken some cred - that was pretty inventive. As the trends with the Thanksgiving turkey come and go (smoked, fried, stuffed into other species of birds...), too there has been a slow but apparent uprise in creative veg dishes showing up on the sacred Holiday table. That bird is losing real estate.
This Thanksgiving I present to you, the Spa-Nut-Chini.
Made of a spaghetti squash, butternut squash and zucchini, this squash tri-fecta is both sweet and savory, hearty without being heavy and festive without being fake (think Tofurkey).
INGREDIENTS
1 spaghetti squash
1 butternut squash
1 zucchini
sea salt
1 large yellow onion, diced
6 garlic cloves, diced small
1 red bell pepper, diced
8 ounces mushrooms, chopped
1 cup cannelini beans, cooked, drained, rinsed
3 sprigs of rosemary, leaves removed
10 large sage leaves
2 tablespoons of fresh thyme
fresh ground pepper
3 tablespoons of Earth Balance Buttery Spread
1/4 cup pure maple syrup
3 tablespoons nutritional yeast flakes
1 leek, cut to the length of the spaghetti squash
6 stalks of asparagus, cut to the length of the zucchini
Walnut Meat Ingredients
1 cup raw walnuts
1 tablespoon tamari
1 teaspoon garlic powder
1 teaspoon ground cumin
1 teaspoon paprika
1 teaspoon of liquid smoke (optional)
DIRECTIONS
Preheat oven to 400-degrees F.

Cut the spaghetti squash and the butternut squash lengthwise and scoop out as much of the insides as you can. (You will be baking the four halves to soften them up in order to scoop out more of the flesh later.)

In the largest baking dish you can find, add just enough water to coat the bottom and add both squashes. You are just pre-cooking them to soften up, it's ok if they are stacked a little. Bake for 25 minutes.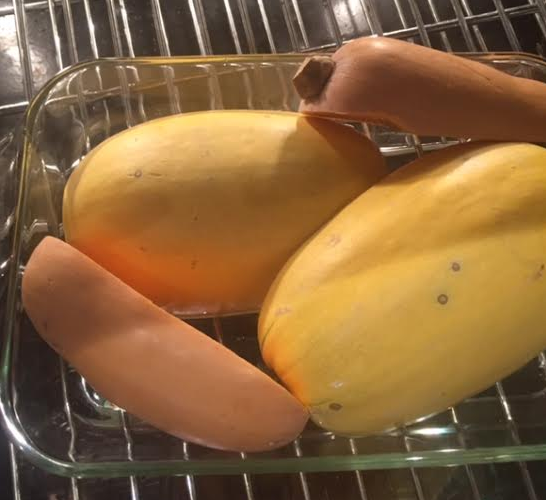 Allow the squashes to cool down enough to handle and begin to scoop out the insides using a spoon or a small lemon baller, leaving roughly one-half inch of flesh in tact. Do the same with the zucchini. Add all the squash insides to a large mixing bowl and add 1/2 teaspoon of salt. Mix with your hands and let it rest for about 10 minutes.

To a large skillet, heat up the water or broth over medium/high heat and add the onion and a pinch of salt. After about 3-4 minutes, it should soften. Add in four of the diced garlic cloves, stir and allow to cook for about 30 seconds. Careful to not burn as it will become bitter in taste. Next add in the red bell peppers and mushrooms and continue to stir. Add more water/broth as it evaporates.

The salt in the squash bowl should have been extracting some of the water, with you hands, squeeze out as much water as you can and place the mixture in the food processor.  Add in the beans, the rosemary, sage and thyme, 1/4 teaspoon of salt and a turn or two of fresh ground black pepper. Pulse all the ingredients only 5-6 times. Leaving some the beans in tact is just fine. Add this mixture to the onion and mushrooms on the stove top. Mix well with a spatula and cook for about 15 minutes. Allow the moisture to cook off and for the flavors to develop.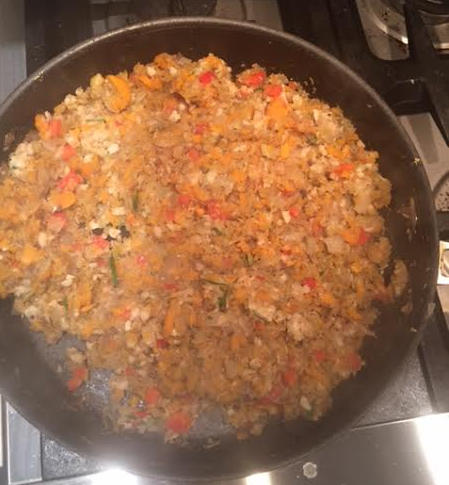 Clean out the food processor bowl and add the walnut meat crumble ingredients. Pulse only until the mix resembles ground meat. Transfer a small bowl.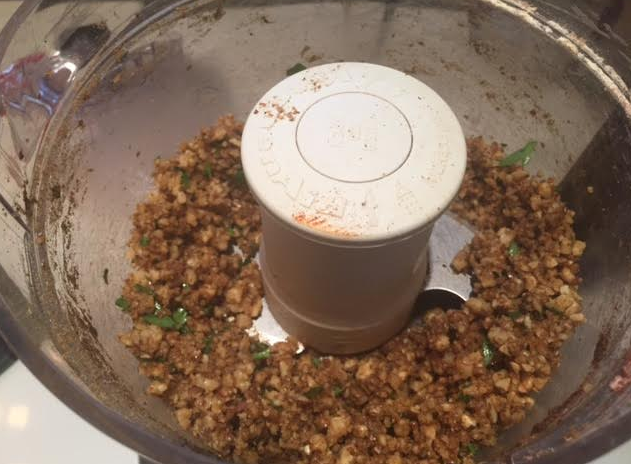 Transfer the squash/onion/mushroom mixture to a bowl and set aside.

In a small sauce pan, over low/medium heat, add in the Earth Balance and once melted, toss in the remaining garlic and cook for about 30 seconds. Add in the syrup and stir to warm. Finally, add in the nutritional yeast and 1/2 teaspoon of salt. Warm through, toss in a basting brush to prepare for coating and set aside. (I had some leftover rosemary and I simmered it in the sauce, but it really was not enough to make a difference.)

Line a baking sheet with aluminum foil and have a few large sheets set aside to cover your squash when ready.

On a large work surface, lay out the three squashes (6 halves), two bowls of mixes (squash/onion/mushroom in one and walnut meat in another), asparagus, leek, warm butter maple syrup, baking sheet, extra aluminum foil and kitchen twine.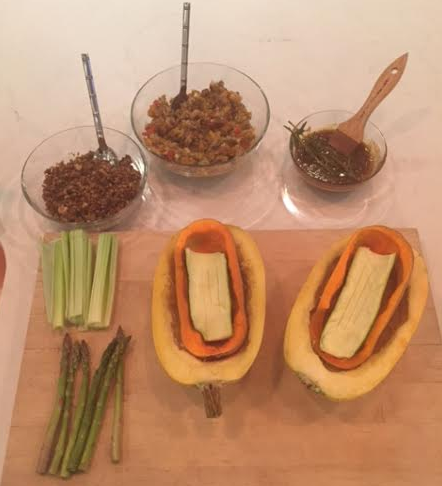 Score each of the 6 squash halves on the inside with the tip of a knife, careful to not poke through the skin.

Here we go:

1. Using the brush in the buttery maple syrup, coat the inside of the spaghetti squash. Scoop about 3 tablespoons of the squash/onion/mushroom mix into each of the halves of the spaghetti squash. Using the back of a spoon, coat and press the the mixture on to the inside (you may need a little more or a little less, depending upon the size of your squash). Next, unravel your cut leek and piece by piece, lay down one layer of leeks. Coat again with the maple syrup.


2. Snugly fit the butternut squash in to the spaghetti squash, brush the maple syrup on the inside and scoop in roughly 2 tablespoons of the walnut meat. Again, using the back of a spoon, spread it out and press in to the inside of the squash. Repeat the leek layering and brush again with the maple syrup.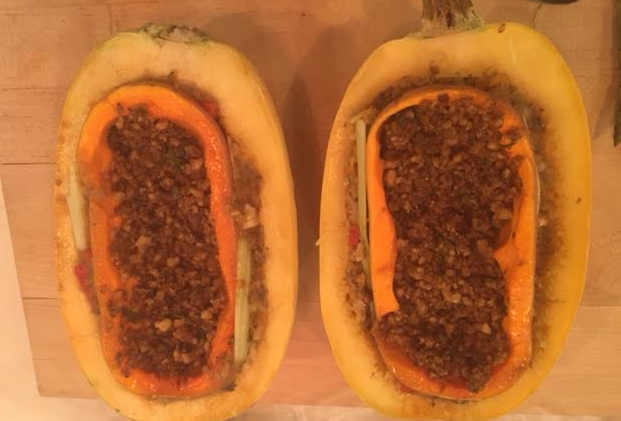 3. Snugly fit the zucchini into the butternut squash, brush with syrup and scoop 1 tablespoon of the walnut meat in to each half, spread and press. Place three of the asparagus spears in the middle of the zucchini in the walnut meat and slightly press.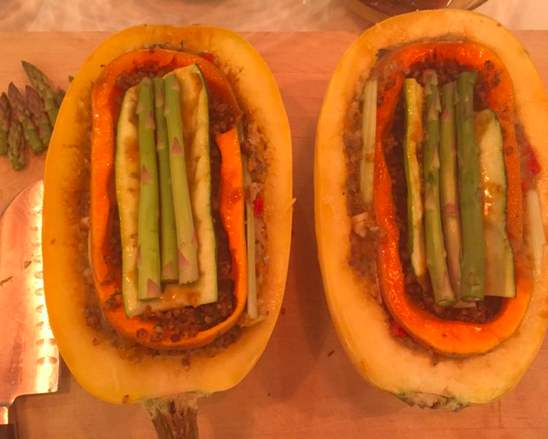 Using both hands, carefully roll both halves together and roll over so that one side is on top of the other. Tie twine in a cute bow across the whole thing. Place your masterpiece on the foil lined sheet and brush the rest of the maple syrup over the squash. Wrap in the remaining aluminum foil sheets and bake for 1 hour, 45 minutes.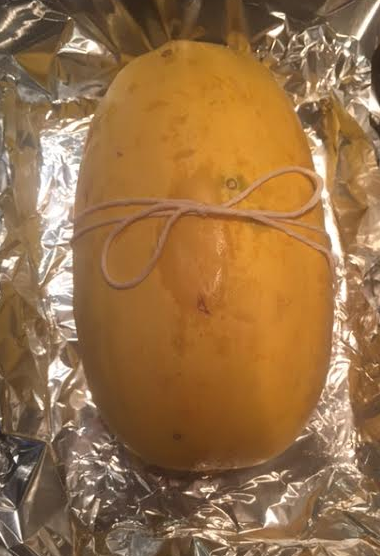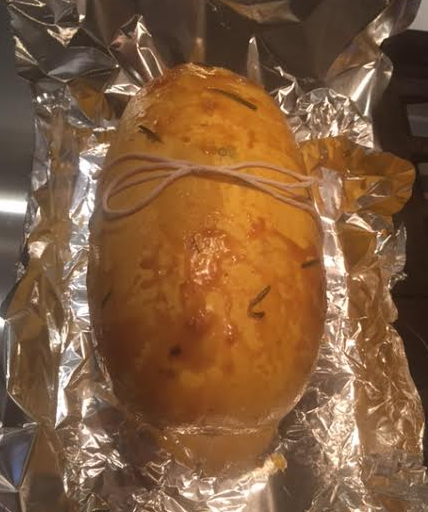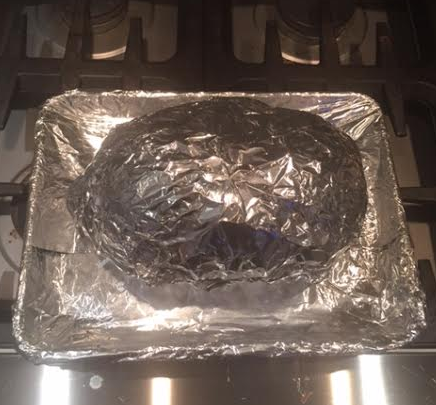 When it comes out of the over there will be excess liquid and that's ok. Unwrap the squash and transfer to a plate/server to cool and set up a bit. Wait about 30 minutes if you can.

Using a serrated knife, and securely holding the squash, gently saw off 1/2" - 3/4" slices.

Devour.
___

A couple of notes:

Many people use eggplant in this dish, however I very much dislike eggplant (except in this dish), therefore I decided against using it. It did create more of a challenge, until I found a spaghetti squash large enough to house a butternut squash. This brought on another roadblock as spaghetti squash skin is quite tough and essentially inedible. However, it does fall right off and I suggest you simply use your fork (or fingers) and easily pull it away. Your omni friends/family may have bones on their plate, you'll have a few squash skins, no big.

I often get the question, "How far in advance can I make this?" Good news! This can actually be made the night before!  Turn on some music, grab a glass of wine and take your time with this sucker. Prepare and cook the whole thing, set it out to cool to room temperature and then store in the fridge overnight if you'd like. Don't unwrap it. When you are about two hours from sitting down to your meal, cook your squash for an hour and a half at 350 degrees F. Allow to cool a bit and serve. The flavors tend to be more bold and the entire dish has set up and is a little more dense the next day.

This was made in trial and error. Have patience with yourself. The day is about your family and your friends, you simply putting forth the time and effort to serve a wholesome, nourishing meal to those you love is what this is all about.
Finally, thank you for visiting the STLVegGirl site, watching the TV segments, interacting with me on social media, etc.  They say one does not change when they see the light, but rather when they feel the heat, and my story, though unique to me, is really not too far off from so many others who have changed their way of eating because tragedy struck their life. Losing a parent to cancer and then being diagnosed myself in that same year changed me (and my eating habits!) forever and STLVegGirl was the goodness born from that very bad place.  
***
I don't consider myself a crusader, beating the vegan drum, taking on the role of the vegan police or quite simply judging anyone for eating anything other than plants. (Good heavens, I have NO friends!) Instead I do what I can to be continually and thoroughly educated because I enjoy it and because if you're looking to have a conversation about it, I'm ready to make it worth your time.

It's a sharp leaning curve if you try to do it all at once. I thank you for allowing me into your life to soften it a little. We begin with a plant on every plate.


Video
Tagged Under:
What do you think?
Leave a Reply