December 12, 2022 3:00 AM
TOP 3 WAYS TO KEEP EVERYONE HAPPY AROUND THE HOLIDAY DINNER TABLE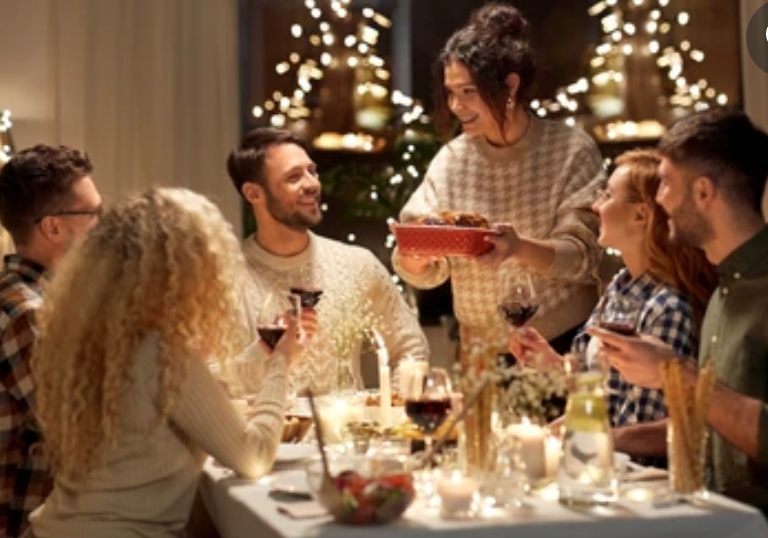 The plant-based diet, or simply the desire to add more plants to our plates is here to stay. There is so much evidence supporting the health benefits of this way of eating, not to mention, every time you turn around someone else has reversed their type II diabetes, lowered their cholesterol, stopped taking many of the meds they've been on for years, etc.
In my family we celebrate Christmas and Christmas Dinner is one of my favorite meals of the year. The craziness of the holiday is winding down, we're in comfy clothes and we EAT! I can remember my first (few) Christmas Dinners and here are 3 things I highly recommend when when preparing for a (holiday) dinner party:
1. Bring something everyone can recognize and they don't see as vegan.
2. Call the host and ask what you can bring (and why!).
3. Don't be afraid to talk about it.
You're the plant-based person so listen up, the responsibility is mostly on you to take charge and calm the room. It's simple. Call the host, let them know you're trying something new, and you'd like to stick to it even during the holidays. That said, ask what you can bring to the dinner or party. A common reply is, "whatever you feel comfortable eating". My #1 suggestion is to bring something simple, and full of ingredients others can identify. Shoot, even the most carnivorous person at the table recognize potatoes and mushrooms. Make this simple for you and for them. Bring enough for you to eat as a meal and enough to share with your fellow guests. At the table, feed yourself and leave the rest on the table for others to try, don't be pushy. This will be a great opportunity for you to introduce a delicious meals, like this, this and this.
Once you are around the table and people start asking questions about your plant-based diet, anxiety may begin to rise again. Many times people who decide to give this a go feel they need to be a full-fledged plant-based scholar to field all the questions that arise. Here are some easy answers to the most common questions:
What about protein?
Because a well-rounded, whole food, plant-based diet includes all the macronutrients we need everyday to live and thrive, protein is not an issue. Everything that comes up out of the ground (plants!) have varying ratios of carbohydrates, fats and proteins. Even iceberg lettuce will have a little bit of protein, for instance! For foods with higher protein values, try tempeh, beans, lentils, quinoa, and almonds. Here is a blog post on plant-based protein.
And, calcium? Where will you get that if not from dairy?
Calcium is a mineral found in the ground and this is where cows get their calcium. If calcium comes from the earth, I'll eat the plants that get it from the dirt, not the animals who ingest it. Some of the foods with the highest concentration of calcium include, figs, dark leafy greens and soybeans! Here is a blog post on plant-based calcium.
Meat has so much iron, what will you do to get that in?
Great question! I find iron in lentils, chickpeas, beans, tofu, cashew nuts, chia seeds, pumpkin seeds, kale, dried apricots and figs, raisins, quinoa. Here is a blog post on plant-based iron.
Why are you doing this??
Now, your answer will vary on your motivation behind changing your diet, however, one really great response  that most can agree on is, "I like the way this makes me feel and I'm looking forward to the positive health outcomes I have been reading so much about." You might add, "I have notified my doctor and we'll be monitoring my progress together."
If someone wants a quick overview of a plant-based diet here are some resources:
The Game Changers (great for men and athletes!)
Code Blue (focuses on MS)
Plantrician Project (resources for healthcare providers)
If you'd like to make a telehealth appointment with a plant-based practicing physician, please contact Jim Loomis, MD.
Want a cooking class? You'll love these!
If you need on-going support, this membership is something you might really enjoy!
This is a great recipe to take to a party or dinner party. It can be used as both an appetizer or a side dish at dinner. Sweet potatoes, mushrooms, some greens and spices make up these cute and delicious stuffed shrooms. No on really thinks about these being plant-based or vegan, they just know they want more!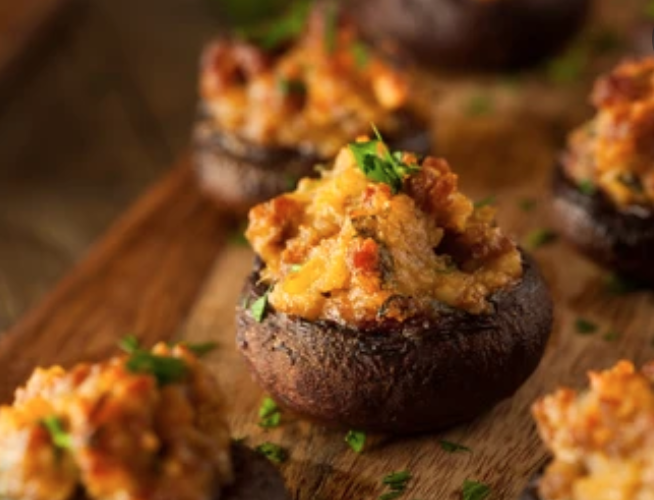 Video
Tagged Under:
What do you think?
Leave a Reply