April 11, 2014 5:36 PM
Beyond Belief with Beyond Meat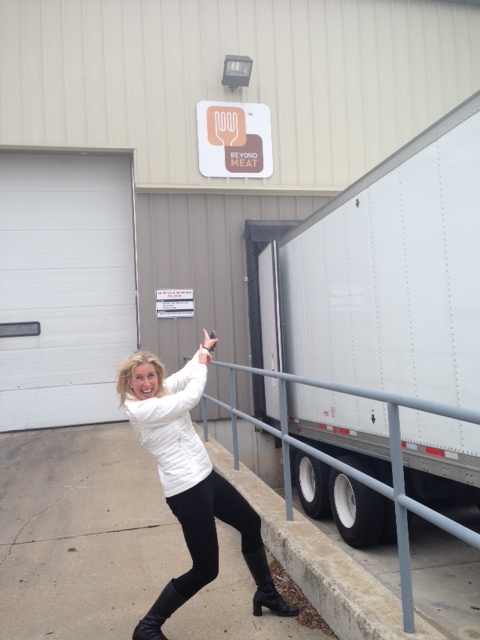 Yeah I know the title sounds a little dramatic, but stick with me here; it's kind of a neat story. 
When I adopted my plant based (vegan) diet in November of 2008, you may know that I did it out of complete fear.  I had just lost my dad to cancer and then ten weeks later I too, was diagnosed with the Big C.  Talk about a roller coaster of emotions for my family and friends!  Fighting through the loss of my dad (some days I'm still fighting that battle) and then really becoming mad as hell with the series of events I took it upon myself to give cancer the middle finger.  I realize I was a lucky one to have the tumor surgically removed and though the doctors told me I was dangerously close, I consider myself blessed to have dodged chemo and/or radiation treatments.  Now that I look back (seriously, realizing this now as I write) perhaps it was that luck that enabled me to have the strength to fulfill the burning desire of finding a way to prevent this kind of heartbreaking devastation NOT hit my family again.  Enough was enough.  Perhaps it's my ego maybe just my overzealous drive to protect my family, whatever it was (and still is) - I was going to do anything and everything to keep cancer - or any chronic illness for that matter at bay.  Listen I know I'm not God, and boy do I know I'm miles away from perfect, but I had a sneaking suspicion that there was something I could do to strengthen my immune system and thus, more effectively (hopefully) fight off anything that would cause me to become sick again. 
I was on a mission.
I won't go into all the different methods I tried to become "healthy", but here's how off the map I was - my first stop had nothing to do with food.  Acupuncture, yoga, meditation (yeah, spastic me, meditating.  What. A. Joke.) etc...  I was truly scared to death, I was doing anything and everything I could to become and remain healthy.  Enter food.  Hmmmm..... maybe, I thought, just maybe what we put into our body has some kind of result on the state of our health.  Ding. Ding. Ding.
For those of you wondering if my hair color is real - you're welcome.
I'm a lover of learning; I've always been a sponge for knowledge so when I went down the road of learning about how food impacts our health for better or for worse, there was no turning back.  I researched diet after diet.  What foods supported our immune system and why. I read the whats, whens, whys and hows to eat all kinds of different foods.  It became a little overwhelming at times, but when you lose a parent and your own mortality is tested, you soon forget the weariness that can set in...and you continue.  I soon came across this crazy VEGAN diet.  Oh, God, no.  I had one vegetarian friend in high school and THAT was weird, so going vegan was totally unacceptable.  I'm a grosgrain ribbon in the ponytail, plaid mini skirt wearing, too expensive for any good reason leather handbag toting, girl.  I'm prep, not hemp.  However, the science behind this crazy plant based diet seemed to indicate results that if adopted good health followed.  The truth of the matter is that the more I read, the more I wanted to stop.  In fact, I really kept reading to find the study that shows this is all hocus pocus - eat broccoli and it does all of these amazing things to your cells.  Yeah right.  Well, they were, they are. 
So, in an effort to check off a box, I transitioned from a point counting, carb watching, calorie restricting, fat-a-phobic diet to eating foods without labels. 
I don't come from a long line of chefs or cooks (sorry mom...), so unless I could punch in 3:00 on the microwave, peel back a corner of the plastic wrap on a diet (read: healthy) entree and let it rock in the radioactivity, it wasn't really happening.
And it began - my vegan diet.  I go into a pretty animated monolog describing the razor sharp learning curve I experienced during my transition in the cooking classes that I now teach but this post (I swear!) is prompted by my experience with Beyond Meat and we need to get there. 
I'm "cooking" God knows what in some capacity about five and a half years ago, the TV is on and the ABC national news is on in the background. Out of the corner of my eye, I see three men suited up in long white coats doning hair nets they are in some kind of factory, surrounding a huge steel vat of something that was being mixed by a large industrial mixer.  The contents of the vat were ivory in color the substance was stretchy, almost like Silly Putty and two of the men were saying they were going to make the world's best substitute meat.  And as God as my witness, I said out loud, "Well, you had better hurry up!"  I kept watching the interview and learned that they were in Columbia, MO and had ties to Mizzou; they were local none the less!  For five years I thought about that interview.  I have a hard time telling you what I did yesterday, but I've never forgotten that interview. 
Through the years fake/alternative/transitional "meats" have entered the marketplace and as consumer demand has increased these types of food have really come a long way.  I have closely watched this industry grow and change, it's all been quite interesting for a number of reasons (that's another post).  I have bought and tried them all, but it wasn't until I saw that brown package at Whole Foods, did I know that this was the one.  I don't know what it was, honestly, it was really just a feeling, but something told me that THIS was the men on the news five years ago. Purchase was made and I didn't even start the car before a "chicken" strip was in my mouth. 
That texture thing - they nailed it.
I began my business in 2011 and as I counsel people on how to transition to a plant based diet, I find that most really prefer to have some sort of meat and cheese alternative incorporated. There are ways to do this without using those transitional foods and we can all agree that a purely whole food (processed free) diet is ultimately the very best weapon we have to fight just about any kind of ailment; I often suggest to others to simply eat the rainbow chosen from the produce section of your grocery store.  This said, the demand is and always will be to fit in some processed items. 
The biggest issue until now, that is, has been texture.  Recreating the taste of meat and dairy has been successfully accomplished by many companies (no small feat mind you, just saying that stone has been turned over). Maybe it's because I adopted this way of eating out of pure fear and had absolutely NO concern for anything actually being edible, much less tasting good.  But, I have clients, friends, even my own brother won't touch some foods because the texture freaks them out, so I understand that concern.  I don't know how the heck they did it, but man they really nailed it.  Their Chicken-Free (made of soy and pea protein) strips tear and shred so unevenly it's absolutely incredible. (No need to take my word for it, it even fooled Mark Bittman) It's almost a little eerie how closely it resembles the real thing - so, I let them know.
Tweet after tweet.  Facebook post after Facebook post.  I thought it was only my duty to let people know what they were missing if they had not yet discovered what I just had.  I'm in the business of helping people adopt this diet and boy, were they about to make my life soooooooo much easier!   So, the love affair began.  As STLVegGirl grows I've been thinking of ways to incorporate BYMT into the soon to be product line.  I shot them an email to say thanks for their reciprocating support and let them in on a few ideas I had.  That evening a 45 minute phone call with them had me jumping for joy.  As it turned out, I wanted to help them as much as they wanted to help me and I graciously accepted a position as an ambassador.  
Recently I had an opportunity to introduce the new BYMT Crumbles (soy free and gluten free, BTW) at an immensely popular annual event here in St. Louis.   I sit on the Friend's Board at Food Outreach and am involved in their big fundraiser, A Tasteful Affair, where about 50 culiniarians are featured.  Brilliant food is being noshed on, the drinks are flowing and thousands upon thousands of dollars are being raised to help those who are diagnosed with AIDS or cancer and need nutritional support.  It's just a cool day.
I participate as a food vendor and this year I dished up nearly 1000 vegan Sloppy Joe sliders to a somewhat unsuspecting crowd. You can't really dispute hearing "mmmmmmmmmm...... I would TOTALLY fix this for my family" time and time again.  Yes, it's that good. 
What makes this collaboration with Beyond Meat even more remarkable is the rest of this story. 
In contacting them about this event that I had coming up, I inquired about perhaps passing coupons on to people as I handed them the recipe.  Or, maybe I could receive some wholesale pricing?  Nope.  They just decided to DONATE their product!  Not only that, but they invited me to come and pick up the crumbles at their production plant in Columbia!  OK, by this point I'm so far past the point of excited that I'm on full geek mode, but, ya know, trying to act cool...  The next week I'm in the car on my short drive to Columbia.  I am cheerfully greeted by Susan, ("Hello Caryn!  We've been expecting you!") and I am invited to take a seat and wait for my guy.  Let me rephrase that, my super nice, incredibly generous, patient and entertaining BYMT guy, Varun.  In conversing with him, it was apparent of the dedication each and every one of the employees have to this company.  This quickly (lightening speed) growing start-up is made up of people who wear many hats, aren't afraid of hard work and truly love what they do.  However, it was not until my private tour, did we come full circle. 
Varun and I suited up in our long white coats, washed our hands and grabbed our hairnets.  As he's explaining to me what was going on in the big vats, I realized...wait!  Here I am in the factory where I watched those men now nearly six years ago, as they mixed the Silly Putty looking stuff tell me that they were going to make the best meat replacement on the market. 
And they did.
Tagged Under:
What do you think?
Posted by
Beyond Meat
on
Jun 17th, 2014
Thank you SO much for sharing this amazing experience Caryn.
We're glad to hear the event went well (those Joe's look amazing) and we're happy to hear (but not surprised) that Varun and Susan took such great care of you.
It's been a pleasure working with you thus far and we look forward to a tasty and delicious 2014!
Posted by
Maureen Mertens
on
Jun 17th, 2014
Caryn,
Between your awesome testimonies from your Mom and reading some things you wrote as well as seeing you on TV, I am working on eating cleaner.
It is quite difficult though since my hubby is a meat and potato guy and nothing will budge him except salad;
I love what you are doing and your passion as well as the passion of others is incredible.
Thank you honey. 'I dine with your Mom once a month :) on "Nerinx Nite" as I call it!
Posted by
Pam
on
Jun 17th, 2014
Loved this article and am very excited to try to find this product in my town. Chico, Calif.. I have been playing with trying to go vegan and have been unsuccessful due to the fact no really good meat substitutes were out there for me. This is very encouraging.
Leave a Reply