June 10, 2014 1:52 AM
Book Review of Garden Safari Vegetable Soup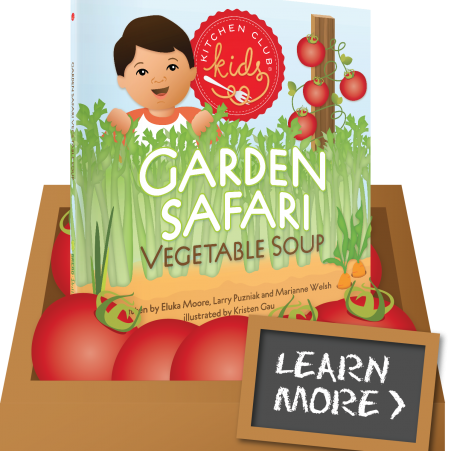 Success!  The folks at Kitchen Club Kids have done it again!  This time, a book a little closer to my heart for a couple of reasons, Garden Safari Vegetable Soup brings it home. 
We begin with a tot banging a pot – We're on a mission – all kids - to the kitchen! (As a big Dr. Seuss fan, the rhyming in this edition reeled me in.)  As the previous book did, this one too, counts to ten and when you reach the end, you realize, you've not only been educated as to where the food comes from and how to use it, but that you've ultimately read a recipe. 
As the title states, this one focuses on vegetables (the previous one encompassed fruit).  The characters travel to the garden (NOT the grocery store!) and one by one they fill a basket of vegetables.  Once back in the kitchen, they explain that fresh is best and begin to cut up their findings.
In their ONE pot goes:
TWO onions
THREE blue potatoes
FOUR stalks of celery
FIVE carrots
SIX tomatoes
SEVEN cups of chicken (ah, hem…) broth
EIGHT scoops of brown rice
NINE basil leaves
TEN bowls to serve
The recipe is recapped by illustration and again in traditional recipe writing format at the end. 
Sure, it looks like a kid's book and they say it's a kid's book, but even as simple as this vegetable soup is, it's got my creative juices flowing.  All I'm saying is that you should be surprised if you find a version of this on an upcoming STLVegGirl TV cooking segment…
Tagged Under:
What do you think?
Leave a Reply