June 4, 2015 7:33 PM
Noodles and Company BUFF Bowls Review and a Giveaway!

Summer is nearly here, time to shed the clothes and and the extra bulk off our plates.  When people talk about eating lighter, that used to mean strictly salads and even to this plant-based girl that sounds like a punishment. However, over the course of the last few years restaurants have begun to listen to the demands of their customers and little by little the salad has grown up.
Recently Noodles and Company stepped into the ring to offer their versions of the new and improved salad: The BUFF Bowl. Essentially, they took their noodle bowls and subbed out the pasta for spinach, genius! I was contacted by a company PR rep to try them out and I happily accepted the invitation. Let's get to it.
There are four BUFF Bowls: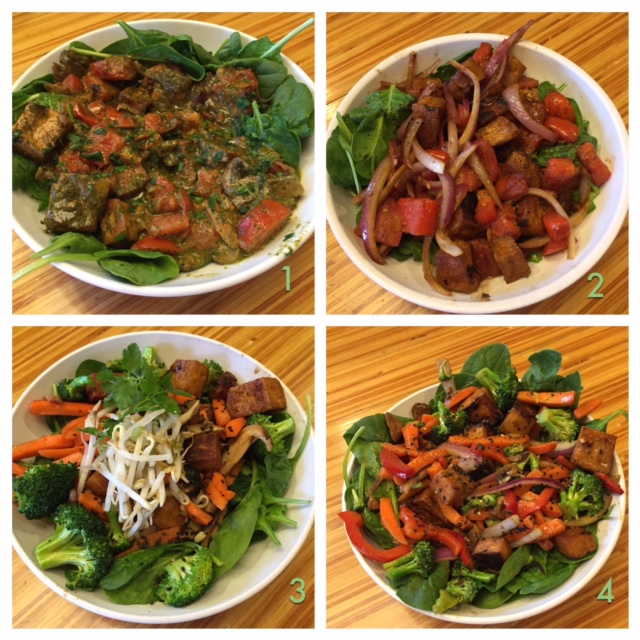 1. BUFF Pesto
2. BUFF Tuscan Fresca
3. BUFF Japanese Pan
4. BUFF Bangkok Curry
All can be made vegetarian, however only the BUFF Tuscan Fresca (#2) and the BUFF Japanese Pan (#3) ordered without feta are vegan, so these are the BUFF Bowls I will focus on.
The BUFF Tuscan Fresca took me by (pleasant) surprise as the tomato sauce in this bowl is quite robust.  I enjoy big bold flavors and there was no holding back on this one. It was a tomato explosion as there were plenty of fresh tomatoes topped on a generous bed of spinach. Red onion and garlic also make an appearance, but are not as apparent.  Noodles and Company feature this Bowl with chicken, but I subbed out for the tofu and again, there was no shortage.  They used a firm tofu which they cubed into bite sized pieces and gave it a quick fry for crispiness. This Bowl is hearty and you will not leave hungry.
The BUFF Japanese Pan is a lighter dish, yet still flavorful.  This is your all grown up summertime salad.  Again on a generous amount of spinach, sits broccoli, carrots, shiitake mushrooms (yes!!!!) that have all been marinated in a light and sweet soy sauce dressing.  I added grilled and marinated tofu, they topped it with Asian sprouts, black sesame seeds and cilantro. I could eat this everyday.
Before I went in for the tasting, I posted to my Facebook page and asked if you had any questions and here are the answers to those inquiries:
1. Q. What is in the sauces and the broth? ( a note from Noodles and Company Corporate:  Below are the main, but not all, ingredients in the sauces.)

A. Fresca Sauce:
Lemon Juice, Sriracha, Oregano, Basil, White Wine, Garlic, Onion Powder, Black Pepper, Balsamic Vinegar, Mustard Powder, Salt

Curry Sauce:
Coconut Cream, Coconut Milk, Sweet Chili Sauce, cardamom, dried red chili, cinnamon, coriander, cumin, galangal, lemon grass, kaffir lime peel, mace, salt, shallot, turmeric, garlic

Japanese Pan Sauce:

Sesame Oil, Rice Vinegar, Molasses, Lemon Juice, Soy Sauce, Hot Chili Sauce, Garlic, Ginger

Pesto:

Olive Oil, Basil, Garlic, Parmesan
2. Q. Are the noodles gluten free and is there sesame in the sauces?
    A. They do have two types of gluten free noodles (there are no noodles in these BUFF Bowls), however,  if you are highly sensitive to gluten they want you to know it is not a gluten free operation, so there could possibly be some cross contamination. The representatives I met with in the restaurant say they take food allergies very seriously and they will work with anyone's requests.  As for the sesame, there is not any in the sauces and the seeds can be left out of any dish.
3. Q. Can any of the Bowls be ordered with tofu?
    A. YES!
Before I left our tasting I extended my thank you for inviting me in and complimented them on moving forward on creating healthy vegetarian/vegan options to their guests. it's so nice to see a restaurant franchise not only listen to their audience, but also deliver to the requests. Bravo, Noodles!  Now, here's my request: Are we able to swap out the spinach for say, zucchini noodles?  This keeps the noodle in the bowl and it still remains unprocessed and ultimately very healthy. Think about it...
If you'd like to try a BUFF Bowl for free, simply leave a comment below on how you are incorporating more plants on your plate this summer and I will send you a coupon for a complimentary Bowl valid in the St. Louis locations only.  The deadline is June 12.
****Comments are now Closed****

Tagged Under:
What do you think?
Posted by
Linda Scherer
on
Jun 4th, 2015
I planted a square foot garden in my back yard. already had spinach, kale, beets and cilantro..patiently waiting for the rest of my veggies to mature..
Posted by
Katie
on
Jun 4th, 2015
When I thought of Noodles and Company I would never think they would produce a bowl without noodles. It's good to know they are jumping on the "healthy" train! I'm encorporating more plants by using my spiralizer on more than just zucchini, but making sweet potato nests with a Mexican filling and making green smoothie bowls for breakfast.
Posted by
Lauren Lageson
on
Jun 5th, 2015
I finally started a garden with broccoli, kale, tomatoes and way too many herbs! I also bought a spiralizer and can't wait to try it out.
Posted by
Kory Waschick
on
Jun 5th, 2015
I love that Noodles has this option and I have been really wanting to try these. More veggies is always good!!
Posted by
Jen S
on
Jun 7th, 2015
We joined a CSA, tons of veggies every week. I make lots of juices and smoothies with the leftovers.
Posted by
Elaine
on
Jun 7th, 2015
I have been eating lots of veggies that I buy at local farmers markets. Trying to get at least 9 servings a day!
Posted by
sandra
on
Jun 7th, 2015
We buy lots of veggies and we've planted a garden!
Posted by
Jeanne Lucas
on
Jun 7th, 2015
It is always so hard to eat out and find places that offer healthy food. I am excited to hear about this option for a wonderful meal. Thanks for the review.
Posted by
Candy
on
Jun 7th, 2015
I have started shopping at the Lake St. Louis Farmer's market to incorporate more locally grown veggies this year! Thank you for the coupon for the BUFF Bowl. I can't wait to try it!
Posted by
Elizabeth
on
Jun 11th, 2015
Green smoothies in the morning! Almond milk, dab of almond or coconut yogurt, handful of spinach and kale, berries, celery stalk or cucumber slices, half of a banana and orange, slice of ginger and turmeric root. Sprinkle with chia seeds, whirl in my Vitamix and Voila! At least 6 servings of fruits and veggies...and delicious!
Posted by
Carolsue
on
Jun 11th, 2015
I incorporate lots more veggies in my diet when we have a gaden in our backyard! There are tomaotes, squash, peppers and lots of other great stuff!
Posted by
Kristen
on
Jun 11th, 2015
We've been heading to the farmers' market most Saturday mornings lately, and planning meals around whatever delicious things we find in season.
Posted by
Rachel
on
Jun 11th, 2015
I'm growing my own veggies in my garden!
Posted by
Julie
on
Jun 11th, 2015
I really love that they are offering more options and variety. They have great foods but sometimes it's hard to find great vegetarian and vegan alternatives. This is wonderful!
Posted by
Donna
on
Jun 11th, 2015
This would be amazing to try!
Posted by
Prasert
on
Jun 11th, 2015
My son is an athlete and he has read a lot about the vegan diet. He is slowly transitioning and replacing more of the foods he normally eats with vegan replacements. It's going really well so far and the buff bowl seems awesome.
Posted by
Linda
on
Jun 11th, 2015
I would so love to try one of the buff bowls!
Posted by
sharon Kohler
on
Jun 11th, 2015
Look forward to trying the buff bowls, and so very excited there is a place that i can get real food on the run, and not junk food. I look forward to trying all the bowls with tofus. I am excited about the 18 green bean plants i have this year and they are loaded with blossoms, which will turn into green beans soon. I could bring a buff bowl back home with me and add my fresh green beans to it as well.
thanks,
Sharon
Posted by
Alice
on
Jun 11th, 2015
All of the varieties sound great. Would love to try one. Thanks
Posted by
Melissa
on
Jun 11th, 2015
I'm growing tomatoes and lettuce in my garden. I also attend the farmers market often!
Posted by
Ann Tucker
on
Jun 11th, 2015
Always good to hear of another plant based option when dining out. Way to go! I'm on a mission to see how many varieties of fruits and vegetables can go on the grill.
Posted by
Marie
on
Jun 13th, 2015
the buff bowls seem absolutely amazing!
Posted by
STLVegGirl (Caryn)
on
Jun 13th, 2015
Thank you to everyone who replied; you guys had some great ideas and I love seeing all the efforts to put more plants on your plates! I'll contact you soon and will get you those BUFF Bowls.
-caryn
Leave a Reply