March 24, 2017 5:15 PM
Celebrating National Celery Month with 3 New Recipes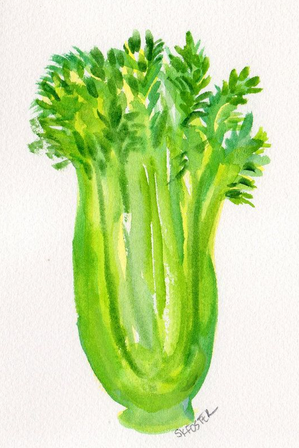 In this Month of March, we are celebrating National Celery Month (who knew?!) by offering up some new recipes highlighting the crispy stalk.
But, first, some science. If you think of celery as just something low-cal to crunch on while dieting and it really does not offer substantial nutrients, think again. Research has uncovered that celery offers anti-inflammatory health benefits including protection against inflammation in the digestive tract. Additionally, we all know vitamin C  and flavonoids offer an anti-oxidant punch and celery will offer this defense, as well as a dozen other antioxidants that all harmoniously work together to help protect against damage to everything from our cells, to blood vessels. to organs.
Now, let's cook some of this nutrient rich plant up!
Spring Green Stir-Fry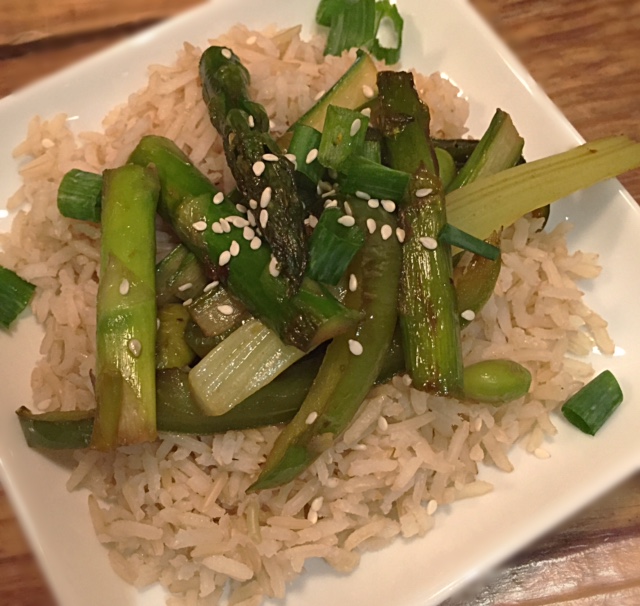 1 cup brown rice
2 1/2 cups water
1/2 teaspoon sesame oil*
1 poblano pepper
1 green pepper
3-4 garlic cloves
1 bunch asparagus
1/2 - 3/4 cup organic edamame
2 stalks celery
2 tablespoons coconut aminos**
1 tablespoon mirin***
4-5 stalks green onion
2-3 tablespoons of sesame seeds
1/4 cup chopped raw peanuts (optional)
Sauteing is a pretty quick process, so have your mise en place (prepped ingredients) ready to go! The rice will take longer than the saute, so have that going for a while before you begin.
In a sauce pan, combine the rice and water and cook to package instructions.
Mince the garlic and seed and julieanne (small matchstick) the peppers. To prep the asparagus, chop off the tough bottoms and discard. Next, chop off the floret tops and save. Now you that the middle part, cut in half creating two equal size stalks and then slice horizontally so they are half-moon long stalks. This will help them cook quickly. For the celery, cut off the ends and discard, cut into 2 or 3 equal size stalks and cut in to horizontal slices (these should be about the size of your bell pepper julienned pieces).
Bring a large skillet or a a wok to high heat and drizzle in 1/2 teaspoon of toasted sesame oil and immediately toss in the poblano pepper, bell pepper, asparagus, garlic, salt and pepper.  Bring the heat down to medium-high and continue to cook for 2-3 minutes. Stir often to unsure the garlic does not burn and all vegetables obtain a little char. Next, add in the celery and the edamame and continue to cook for another 4-5 minutes. Remove from heat and pour in the coconut aminos and toss well. Next add the mirin and continue to toss well. The mixture will become a little thick with a nice glaze.
Immediately serve on top of brown rice, rice noodles or by itself. Garnish with sliced green onion, sesame seeds and chopped peanuts (if using).
Serves 4
NOTES
*I typically do not use oil in my cooking unless it really makes a flavorful difference and toasted sesame oil is not an exception. Using only 1 teaspoon for 4 servings comes to an extra 10 calories and roughly 1 gram of fat each.  However, you can use 2 tablespoons of water or broth in your pan/wok if you'd like instead, but be really careful as the as this will evaporate quickly and you will have to replace it often.
**I'm hooked on coconut aminos, however, you can use any of the following: soy sauce, shoyu, tamari or Braggs Aminos.
***Mirin is a sweet Japanese wine found in any grocery store and has a small amount of alcohol. If you'd rather not use it, a good substitute is making a quick simple syrup - mix one teaspoon of honey (or other liquid sweetener) or sugar with 2 teaspoons of water and whisk well.
Skinny Celery and Ginger Cocktail
1 celery stalk, 2" usable part of the stalk, diced fine
1 teaspoon minced ginger root
1/2 teaspoon lime zest
Leaves from 3-4 sprigs of cilantro, minced
Juice from 1/2 lime
1/2 ounce of simple syrup (I made my own, equal parts sugar/water over low heat until sugar dissolves)
1 ounce vodka (opt out to make a mocktail)
sparkling water
one stalk of celery for garnish
Muddle the diced celery, ginger, lime zest and cilantro. Add in the lime juice, simple syrup, vodka and sparkling water. Stick a stalk of celery in the glass for fanciness, kick back and enjoy.
Pickled celery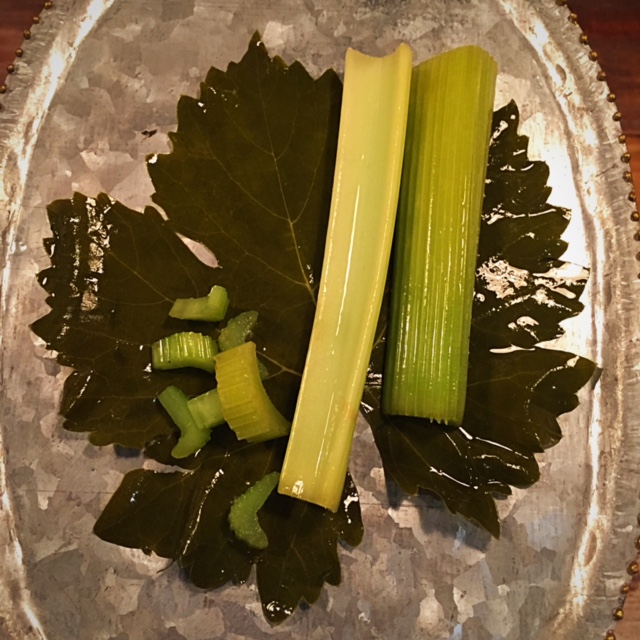 Fermented foods are foods that have been through a process of lactofermentation in which natural bacteria feed on the sugar and starch in the food creating lactic acid. This process preserves the food, and creates beneficial enzymes, b-vitamins, Omega-3 fatty acids, and various strains of probiotics.
Natural fermentation of foods has also been shown to preserve nutrients in food and break the food down to a more digestible form. This, along with the bevy of probiotics created during the fermentation process, could explain the link between consumption of fermented foods and improved digestion.
1 quart wide mouth jar
one bunch of celery
3-4 cloves of garlic, peeled and smashed
3-4 gold pearl onions, peeled and cut in half or quarters
1/2 bunch of fresh dill
4 teaspoons sea salt
2 grape leaves
Clean and cut the ends off the celery. Pack the celery in the jar leaving about 2 inches of space to the top. Get in as much of the garlic, onion and dill as you can, add the salt and then water. Leaving about 1 inch of space before you reach the rim, but the water still covering the vegetables, place the grape leaves on top. Screw on the lid and secure for 5-7 days.
NOTE:
I wanted to be able to check my ferment at least once during the process, so I used the Easy Fermenter which allowed me to open the can and vacuum out the oxygen that I briefly let back in.
Tagged Under:
What do you think?
Leave a Reply