October 18, 2022 9:51 PM
LOWER YOUR BLOOD PRESSURE AND RISK FOR HEART ATTACK / STROKE BY UPPING YOUR POTASSIUM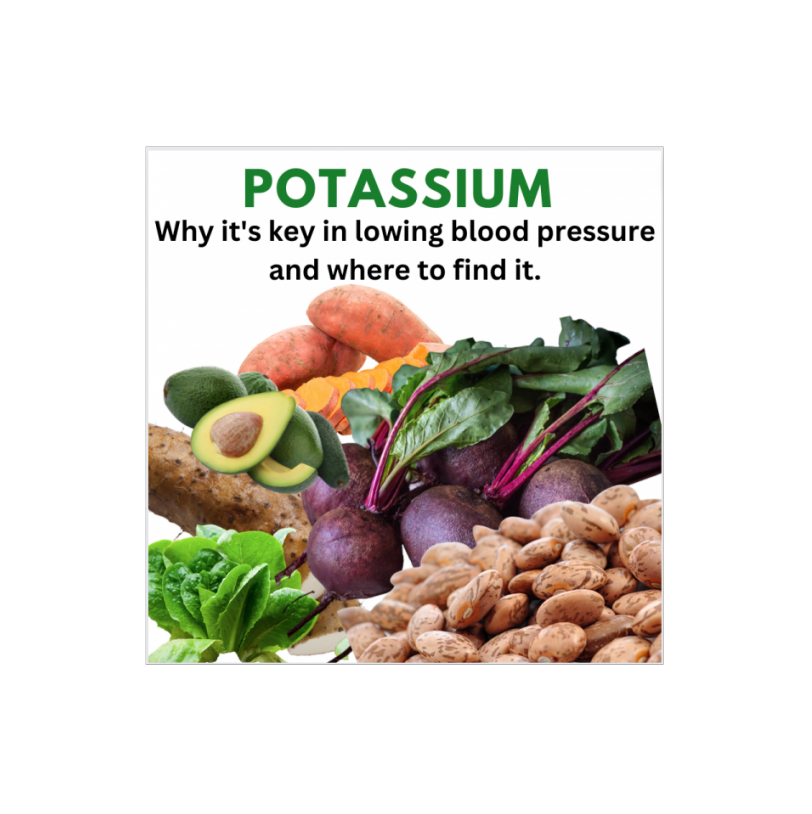 Potassium, as the third most abundant mineral in the body, helps regulate fluid, aids in conducting muscle contractions, and even delivers nerve signals. This happens as potassium is an electrolyte and offers up a positive charge when submerged in water (inside our cells). Over 90% of our potassium is found inside of our cells and the majority are in our muscle cells - others being liver, bone and white blood cells.
Our bodies are made up of 60% water and more than half of that is inside of our cells (again, where you'll find most of your potassium) The remainder of the water is mainly in our blood and spinal fluid and the main electrolyte there is sodium.
Potassium is the main electrolyte that determines the amount of water inside the cells. Conversely, sodium is the main electrolyte outside the cells and it determines the amount of water outside the cells. As you can see, potassium and sodium work in tandem and it's very important that there is an equal balance of electrolytes both inside and outside of the cells.
Our bodies are always working hard to maintain balance. When this balance is challenged, water from the side with more electrolytes will move into the side with fewer electrolytes to equalize electrolyte concentrations. This has side effects, which then can present as dehydration, leading to heart and kidney strain.
You can also thank those sodium and potassium electrolytes for your muscle contractions, heart beats, reflexes and so much more movement! As the minerals moved in and out of the cells, they create electric volts in the cell that initiate nerve impulses. Again, when that balance is off - so can your movement be.
Nearly one-half of all Americans have hypertension.
Our bodies have sophisticated systems to control blood levels in a very small range. This is good news since normal levels of potassium are absolutely critical to life—if potassium levels become too elevated, or fall too drastically, the heart and nervous system shut down. It's true that most of us have access to adequate potassium from foods to meet our most basic needs. However, many Americans often fail to obtain optimal amounts of this mineral, and pay a health cost for it. Enter - Hypertension. Heart Attack. Stroke.
It's no secret that our culture fails to regularly eat fresh fruits and vegetables, while eating heavily salted ultra processed foods is incredibly simple. In fact, only 10-12% of Americans meet the recommended amount of eating fruits and vegetables and furthermore, 98 percent of the U.S. population doesn't even reach the recommended minimum daily intake of potassium!
"Sodium and potassium exist in a partnership, and each important use of potassium requires sodium to maintain balance. Importantly, as average diets in the United States have become depleted in potassium, they have become much more concentrated in sodium. "    — World's Healthiest Foods
Ok, so now you have an idea of how important it is to maintain healthy levels of potassium - where the heck do you find it and how much do you really need? If you can get somewhere around 5000mg of potassium a day from your foods, you're in good shape. Here's a chart of some of the more potassium dense foods - this is not an exhaustive list.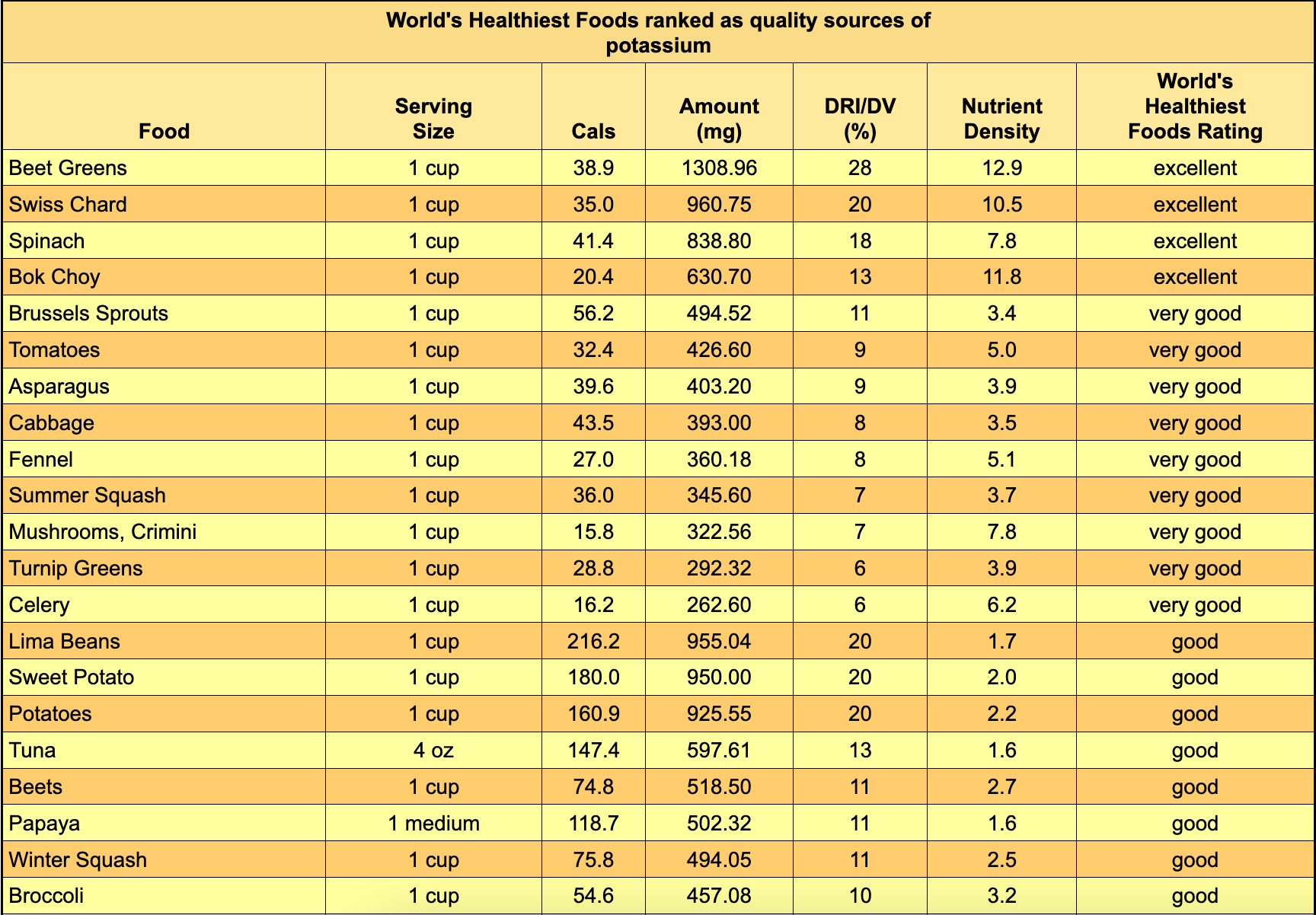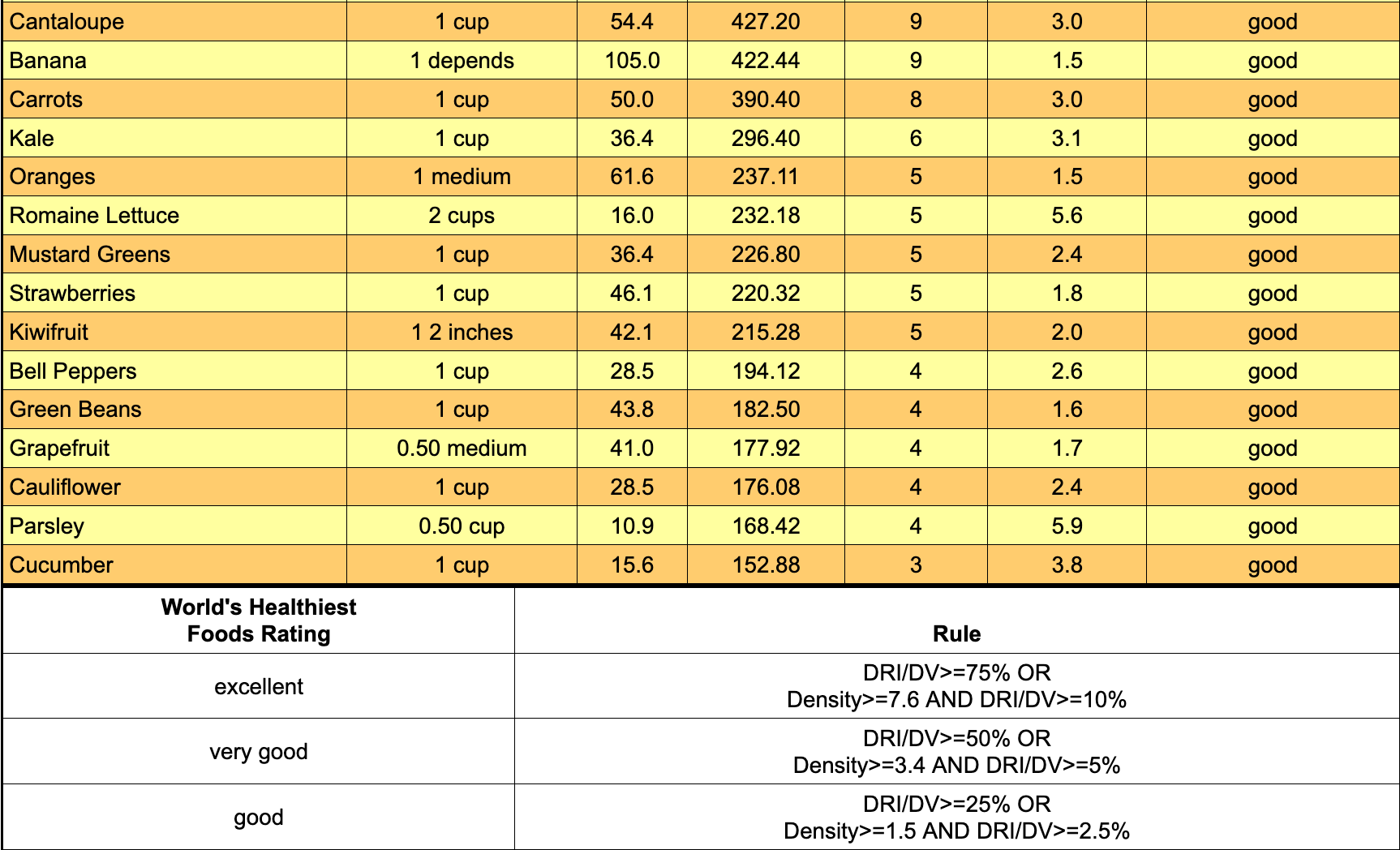 Thank you to FOX2 for allowing me to introduce potassium rich foods to their viewers and hopefully give some new insight on how people can lower their BP, and risk for heart disease and stroke.
Below is a GREAT video from Dr. Jim Loomis on how he helps get his patients off their HBP meds! This is GOLD!!
____________________________
Do you know about our STREAMING PLUS membership? 
Our membership is built like a streaming service - you get a full library of plant-based cooking classes to watch whenever you want. PLUS, you gain access to upcoming interactive virtual cooking classes and a monthly accountability group call.
As a member you get:
Complete library of all past virtual classes - stream them whenever you'd like!
Free access to upcoming virtual classes
Library of easy and quick recipes: 100 and growing
Access to private Facebook group
Monthly accountability check-in and support group Zoom call with Caryn
Quarterly "Ask the Doc" call with Dr. Jim Loomis, our Medical Director
20% off all virtual multi-week programming
A community of support
To learn more, please visit us here.
____________________
Video
Tagged Under:
What do you think?
Leave a Reply