January 5, 2014 6:31 PM
End of the Rainbow Fruit Salad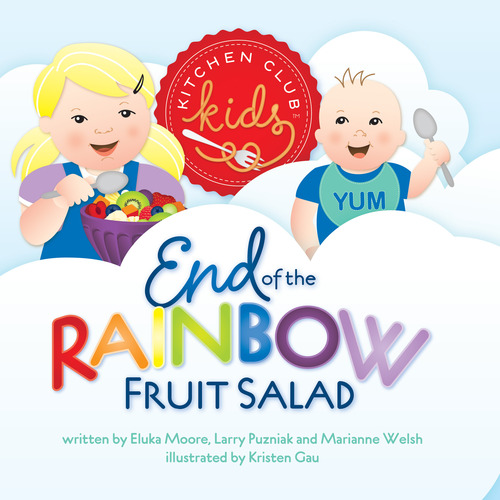 BOOK REVIEW
Review for End of the Rainbow Fruit Salad
By: Eluka Moore, Larry Puzniak and Marianne Welsh
A few weeks ago I received an inquiry from a children's book author who asked me if I'd like to review a book that focuses on" healthy" eating for kiddos. 
Ah, yes, please.
The End of the Rainbow Fruit Salad (next to The Giving Tree) is the hands down first book I'd buy any parent who has small children (ok, truth be told, probably any parent with adult children too, as we could all use a refresher…).   Upon cracking open the hardbound cover, I'm struck by the old school kitchen wallpaper-ish patterns that immediately took me back to the kitchen I grew up in; it's kind of nostalgic.  Page after page is splashed with colors of the rainbow and cheerfully animated by a baby boy (who wears a bib with only the word, "YUM" on it) and his older sister who takes care of most of the preparing of the fruit salad.  Following a brief introduction of who the kids are and what they'll be doing, each page spread takes one fruit, introduces it, briefly describes the flavor, and shows how to prepare it for eating.
When they reach number ten, they have prepared a beautifully tasty bowl of rainbow colored cuisine that a kid of any age would enjoy. I'm on a plant-based (vegan) diet and there are about 100 reasons I love this book, here are a few:
      I have learned that eating the rainbow on a daily basis enables our bodies to obtain an array of vitamins and nutrients that support a strong immune system (decoded: a sniffle stopper).
      The authors approach "eating healthy" in the most simplest of ways, by using cartoon kids, lots of color and ONE INGREDIENT AT  A TIME. 
      I hate numbers, if you know me at all, you know this. Which is why I hate writing recipes – I'm a dump and taste girl.  I'm a lost cause, but for kids just starting out , by the time you get to the end of the book, gosh darnnit, you've read and can easily follow a real recipe – and you got a counting lesson.  Genius, pure genius. 
      What does a papaya look like – now you know. 
      And, what's up with that Where's Waldo-esque pickle on each page?  I love that guy – must be an inside joke with the authors.
      It's whole-food, plant-based; educational; approachable; and so very simple to incorporate into your life…at any age. 
5 out of 5, 10 out of 10, whatever your scale, I'll bet you'll agree, it will be tipped in your loved ones favor.
DISCLAIMER:
Although I was furnished with a copy of the book, I did not receive any compensation for this book review.
Tagged Under:
What do you think?
Leave a Reply