Early Riser Nachos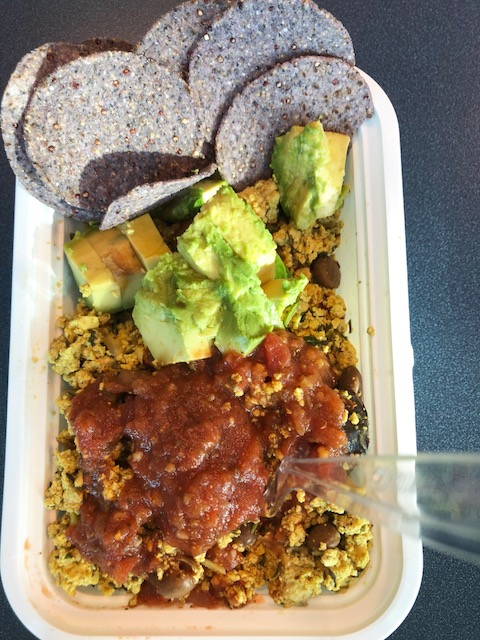 Make a batch of these nachos, divide them up into 5 separate containers and you have breakfast at your desk all week long.
Ingredients
Setup
For the scramble
1 12-16 ounce block of organic extra firm tofu (vacuum packed)
2 tablespoons of light soy sauce or coconut aminos (gluten free tamari is fine)
1 yellow onion, diced
1 red bell pepper, diced
1 jalapeno, seeded and diced
2 cloves of garlic, minced
1/4 teaspoon of each: ground cumin, dried thyme, dried rosemary, dried oregano, dried turmeric
1-2 tablespoons nutritional yeast flakes
sea salt and ground black pepper to taste
1/8-1/4 teaspoon kala namalk (Indian black salt)
1 bunch of cilantro (leaves only), coarsley chopped
1 cup cooked pinto beans
The extras
avocado
salsa of choice
oil-free baked tortilla chips
Directions
Cut open the tofu package and drain any extra water. Crumble up the tofu with your hands to the point it looks like white scrambled eggs. Transfer to a mixing bowl and pour in the aminos. Mix with your hands gently and set aside.

In a large hot skillet, add in the onion and peppers. This is a dry saute (no oil), so make sure to keep the onion moving around with a spatula or wooden spoon. If it starts to stick add in a tablespoon or two of water to deglaze. Once the vegetables begin to brown, add in the garlic and bring the heat down to medium. Continue to stir for about 45-60 seconds and add in the tofu. Spread it out in the pan and allow it to cook 3-4 minutes at a time and flip. Continue to do this a few times. You are looking for that barely crispiness that real scrambled eggs have.

Meanwhile, combine the cumin, thyme, rosemary, oregano and turmeric into a small dish and add a few tablespoons of water. Stir to mix well. Pour mixture into the scrambled tofu and mix well. Add in the nutritional flakes, salt and pepper and the kala namalk. Toss in the beans and the cilantro. When the beans are warmed, you can dish up your scramble.
Top with chopped avocado, salsa and scoop up with chips.
Serves 4-5
TIP: Wait for the scramble to cool and scoop into 5 individual portable containers. Add diced avocado, salsa and chips on top each morning before you leave for work / school.
How did this recipe work out?
Leave a Reply