January 23, 2023, at 06:00 PM
Center for Plant-based Living
PLANT-BASED 101 WITH MEDICAL DIRECTOR, DR. JIM LOOMIS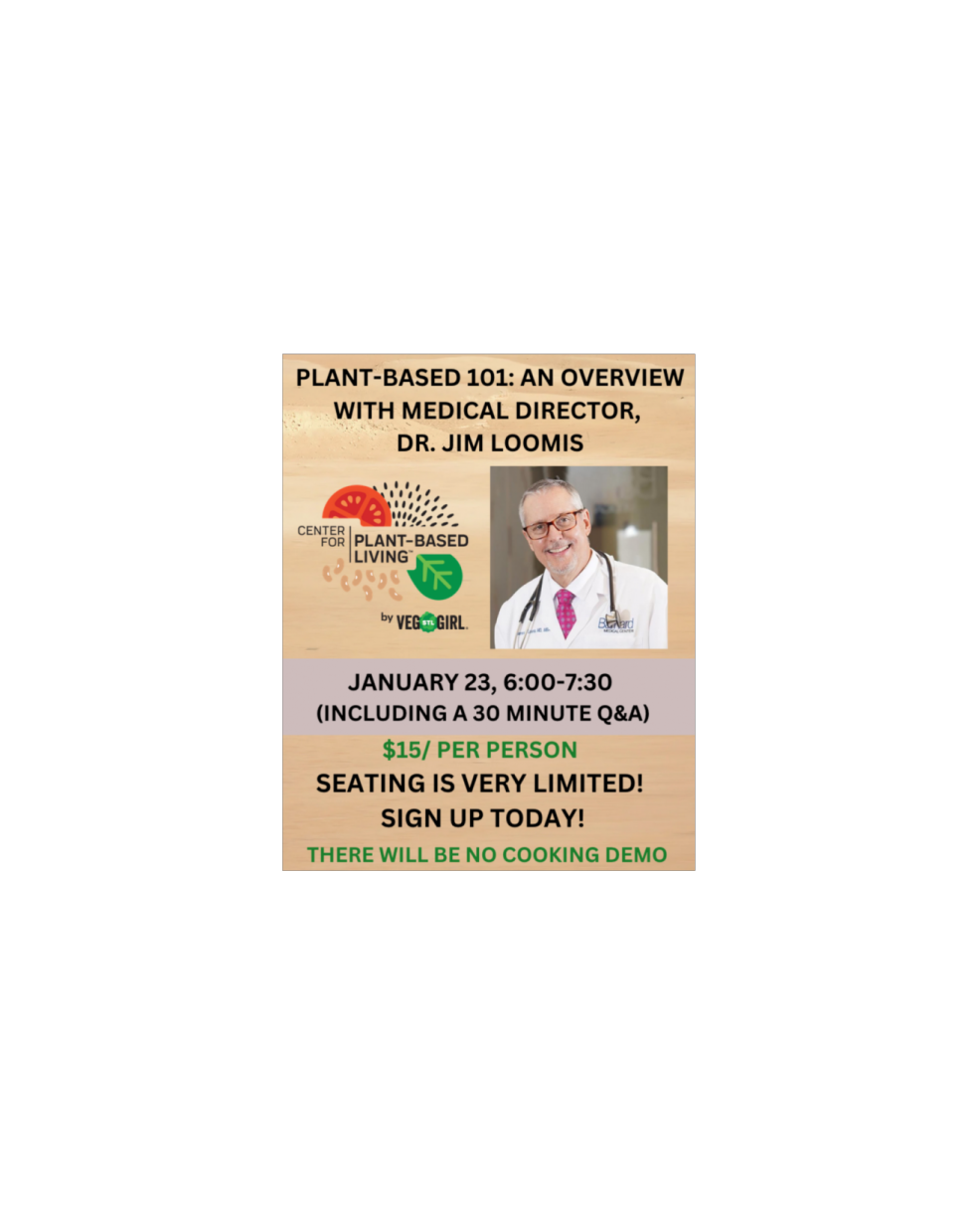 Dr. Loomis will give a lecture on the basics of a plant-based lifestyle and help you connect the dots in understanding why this very basic and simple eating style both prevents and reverses a myriad of chronic illness, and restores great health simply by changing what is on the end of your fork.
If you are struggling with:
pre or type 2 diabetes

high blood sugar

high blood pressure

high cholesterol

heat disease

weight loss

arthritis

hormone issues

sleep disturbances

GI issues

Reflux

or so many more chronic illnesses, please invest 90 minutes in your health and join us.

Additionally, if you are an athlete, you will also take away substantial value as there is an uptick of professional athletes who have adopted a plant-based diet whose performance has far exceeded anything they have ever experienced.
We highly recommend you watch both, Forks Over Knives movie (found for free on their website) and the Game Changers movie (Netflix) before attending.
This type of event has been requested for quite some time and we are expecting a crowd; seating is very limited. This talk is the same one Dr. Loomis gives in conferences around the world and we know you will find great value in it. Please share this information with someone who needs this message.
We know your time is valuable and we will start promptly at 6:00 and end at 7:30. Dr. Loomis will try to get to all of your questions.
________
Do you know about our STREAMING PLUS membership? 
Our membership is built like a streaming service - you get a full library of plant-based cooking classes to watch whenever you want. PLUS, you gain access to upcoming interactive virtual cooking classes and a monthly accountability group call.
As a member you get:
Complete library of all past virtual classes - stream them whenever you'd like!
Free access to upcoming virtual classes
Library of easy and quick recipes: 100 and growing
Access to private Facebook group
Monthly accountability check-in and support group Zoom call with Caryn
Quarterly "Ask the Doc" call with Dr. Jim Loomis, our Medical Director
A community of support
To learn more, please visit us here.
Was this event as much fun for you as it was for me?
Leave a Reply