January 14, 2020, at 06:00 PM
Center for Plant-based Living
Taco Tuesday Featuring Lentils, Mushrooms, and Avocados!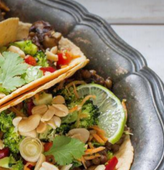 It's another edition of Taco Tuesday!
Your Menu:
Asian Inspired Lentil Tacos (lentils, lime, garlic, ginger, mushrooms)
BBQ Mushroom Tacos (chipotle, garlic, allspice, cloves)
Crispy Avocado with Sriracha Ranch Drizzle (avocado, lime, cumin, hemp hearts, tahini)
Was this event as much fun for you as it was for me?
Leave a Reply