Root to Stem New Year Salad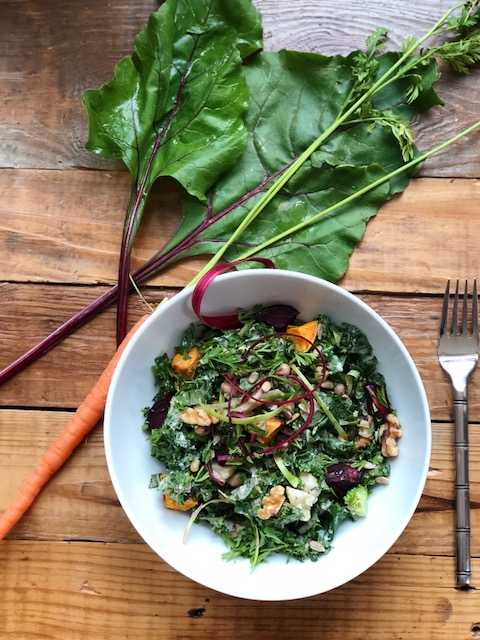 Wait! Don't throw that out! Let's cut down on waste by using the entire food and infuse even more nutrition into our meals. Did you know that carrot greens contain 6 times the vitamin C of the root and are a great source of potassium and calcium?!
In this root to stem salad, we're using just about all the parts of our ingredients and adding a little New Year luck by adding in black-eyed peas!

Ingredients
Setup
DRESSING
2 cloves of garlic
1/2 cup of hemp hearts
1 tablespoon of light miso paste
juice of 1/2 lemon
2 dates, pitted
1 tablespoon of nutritional yeast flakes
salt to taste
SALAD
2 beets with greens attached
1 small sweet potato
1 bunch of kale, cleaned and cut (learn how to cut kale here)
2 carrots with greens attached
1 stalk of broccoli
2-3 large cauliflower florets with stalk
3-4 asparagus spears
1 cup black-eyed peas, cooked
handful of walnuts, chopped
2-3 tablespoons of sunflower seeds
Directions
Preheat oven to 400-degrees F.
Cut greens off of beets and set aside. Peel beets and cut into bite sized pieces. Cut the sweet potato the same way (do not peel). Place beets and potatoes on a parchment paper lined pan and VERY lightly spray with oil. Bake for 35-40 minutes.
Blend dressing ingredients together in a high speed blender and work the dressing into the kale leaves by roughly massaging it (you probably won't use all of it). Here's a tutorial.  Set aside.
Next, Cut the greens off the carrots and cut into 1" pieces. Cut broccoli and cauliflower into equal sized small bites (stems, too!). Cut a sliver off the bottom of the asparagus and discard. Cut the rest of the asparagus into 1/2" slices. Set vegetables aside. Heat a a pot large enough to hold the vegetables with water and bring to a boil. As that is heating up, fill a large bowl with ice water. Place the vegetables in a colander or mesh strainer and dunk them into the boiling water. Only leave them in log enough to see the broccoli turn bright green (a couple of minutes). Transfer the vegetables to the ice bath to halt cooking. Once cooled, allow them to drain.
Cut up a leaf or two of the beet green just as you did the kale. Dice the stem into tiny bites. Mince the carrot tops.
Now, add everything together. Add the roasted beets and potatoes, blanched vegetables, black-eyed peas, the beet greens, stalks, carrot tops, walnuts and sunflower seeds together, toss and enjoy.
How did this recipe work out?
Leave a Reply