Eggplant Manicotti with Tofu Ricotta and Cashew Bechamel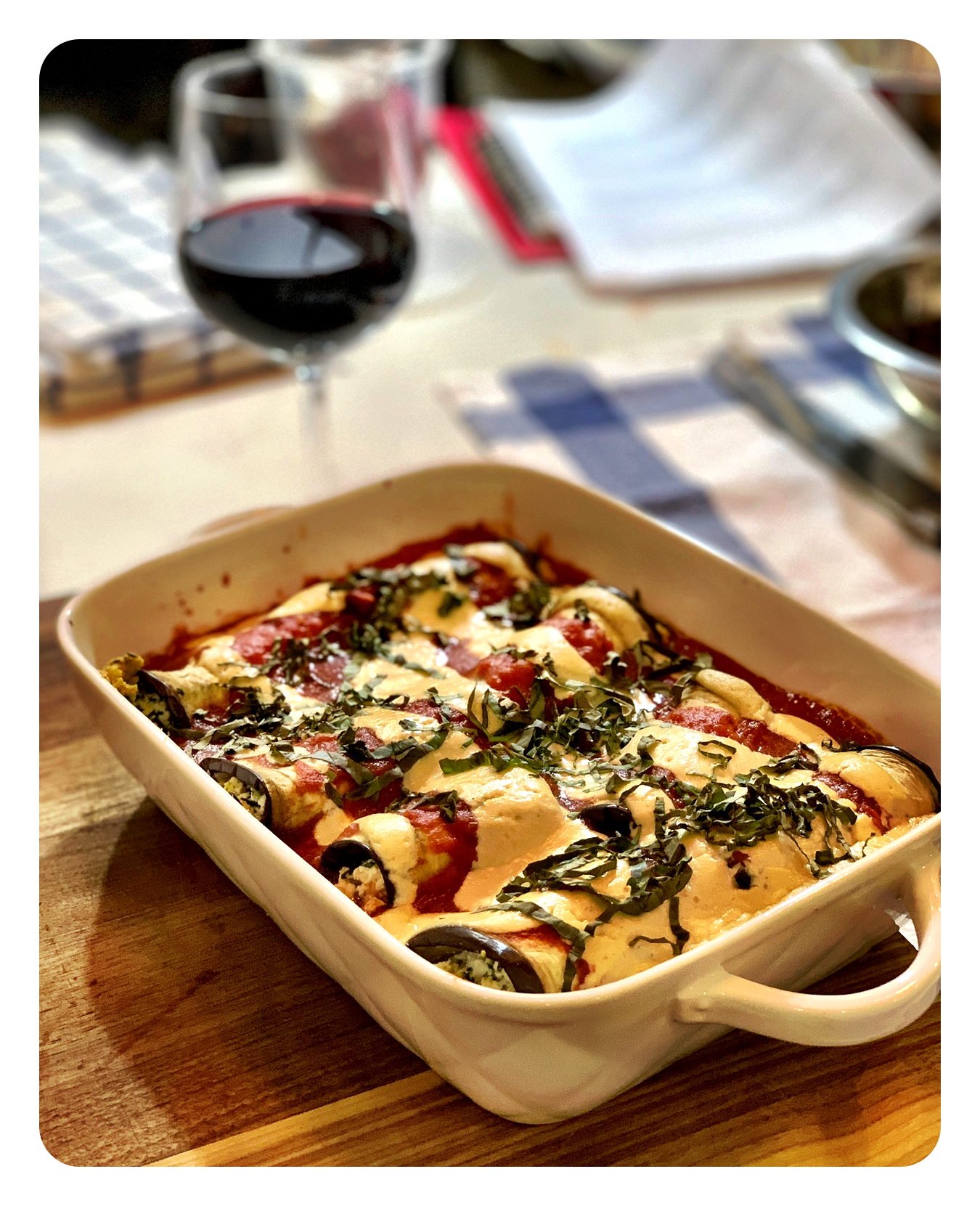 There is nothing more satisfying than eating a big ol' plate of manicotti, and never feeling that "pasta" bloat. The fresh basil, beautifully sweet San Marzano tomatoes and creamy bechamel sauce makes this dinner party worthy. You'll win anyone over with this dish.
Ingredients
Setup
3 Eggplants
SPINACH TOFU RICOTTA
1 12-ounce block of the firmest tofu you can find, preferably in a vacuum pack
2 tablespoons tahini*
2 1/2 tablespoons nutritional yeast
1 shallot, minced
1/4 teaspoon finely grated nutmeg
1/2 teaspoon lemon zest
1 tablespoon lemon juice
1 teaspoon sea salt
1/2 teaspoon fresh ground pepper
1 8 oz pack frozen, chopped spinach, defrosted and drained well
1 handful of fresh basil leaves, torn
CASHEW BACHAMEL
1 cup raw cashews, soaked in water for 3-4 hours, or boiled for 20 minutes*
1/2 yellow onion, diced
1 ½ cup vegetable stock
1/4 cup dry white wine
1 garlic clove
2 tablespoons nutritional yeast
1/2 tablespoon onion granules
pinch of fresh ground nutmeg
pinch of ground white pepper
1 teaspoon sea salt*
MARINARA SAUCE
1 28-ounce can of San Marzano tomatoes
1 14 oz can dice tomatoes
2 tablespoons balsamic vinegar
1 tablespoon maple syrup (or liquid sweetener of choice)*
½ tablespoon dried oregano
Directions
Preheat oven to 350-degrees F.
Cut off the top and bottom of each eggplant and slice them vertically in 1/8-inch strips. These will be your noodles. Place the slices on a parchment paper lined baking sheet and sprinkle a little bit of sea salt on each slice. When the oven is ready, bake for 15 minutes, flip and bake another 7--10 minutes, or until they begin to brown just a little. You don't want them to crisp up as you will not be able to roll them. Set aside and allow to cool.
RICOTTA
In a medium bowl, crumble up the tofu with your hands. Add in the tahini, nutritional yeast and shallots and mix well. Add garlic, nutmeg and the lemon juice and zest. Mix again and season with salt and pepper to taste. Fold in the chopped spinach and basil. Keep mixing until well combined. Mixtures should hold together well in your hands. This indicates tofu and spinach were drained well. Chill in fridge until ready to be used.
BECHAMEL
Drain the soaking or boiling water and place cashews in a blender. Preheat a large skillet. Add the onion and a tiny pinch of sea salt to the pan, bring pan down to a medium flame and continually stir the onions. Add a splash of water if the onions begin to stick. Once browned, add the onions to the blender with the cashews along with the vegetable broth, white wine, garlic cloves, nutritional yeast, onion granules, nutmeg, white pepper and salt. Blend until creamy. Set aside. Transfer to a bowl or container and set aside.
MARINARA
To a food processor or blender, blend the marinara ingredients and adjust balsamic and sweetener to taste.
ASSEMBLING
Spread the marinara on a 9 X 13 baking dish. Lay out a slice of the baked eggplant, with the small end closest to you. Scoop some of the ricotta on that end and roll. Place the roll-up seam side down in the baking dish. Repeat. Spoon over the remaining marinara. Bake uncovered 20 minutes, or when it starts to bubble. Allow to cool just a bit for it to firm up a little. Pour béchamel on top and broil for 3-4 minutes, until it begins to slightly brown. Garnish with fresh basil.
Parts of this recipe were adapted from my friends at Rouxbe.
*I am grateful to Chef AJ to have had the opportunity to demo this recipe on her show. To make this recipe sugar, oil, salt-free (SOS-free), simply swap out the cashews for 1 cup of drained and rinsed cooked cannellini beans and omit the tahini and maple syrup. It will still be delicious!!
__
Check out our latest classes: https://www.cpbl-stl.com/classes
To purchase some of the kitchen tools I use here https://tinyurl.com/yyacj2cg
To subscribe to the weekly Plant-based Quick Cooking Show: https://www.youtube.com/channel/UCExWwoBh6fvdOgghkjh0U1A?
Thanks for all of your support!
How did this recipe work out?
Posted by
Jim Wiltsch
on
Feb 3rd, 2019
Made this last week and it was awesome. Leftovers were tremendous also.
Leave a Reply